European policy makers want faulty filters to rule the internet: Your action is needed!
Policy makers are working on the largest internet filter we've ever seen. A filter will decide which of your uploads will be seen by the rest of the world and which won't. But these filters often fail. Member of the European Parliament (MEP) Felix Reda published some examples of where filters got it wrong. Here are a few low points.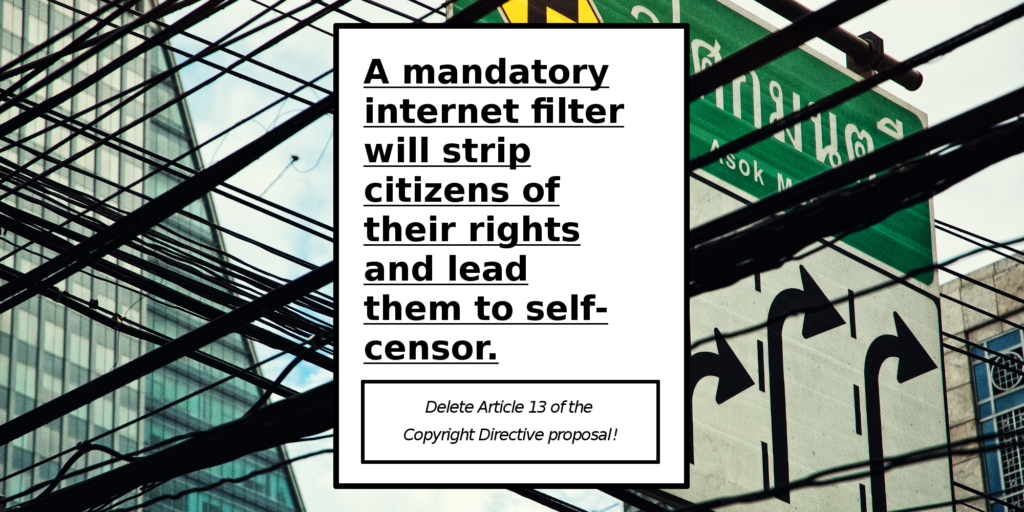 Copyright filter blocks lecture on copyright
In a recording of a Harvard Law School lecture on copyright, the professor plays a short excerpt from a Jimi Hendrix song to illustrate his argument. That's perfectly legal: there are copyright exceptions that let you use copyright protected material for educational purposes. YouTube's filter was, however, unable to assess the context and therefore said the video was violating copyright. Lesson learned? Filters don't recognise exceptions.
Filter accuses NASA of publishing footage belonging to NASA
All the footage that US National Aeronautics and Space Administration (NASA) publishes is in the public domain, which means everyone can use it. A few TV stations used the images in their broadcasts and afterwards had their broadcasts protected against copyright infringement. The copyright filter recognised the footage from NASA as being the same as in the TV broadcasts, and concluded that NASA must be infringing on the TV station's copyright. The issue was quickly resolved, but not before NASA's own footage was blocked. Lesson learned? Filters can't deal with "public domain" content.
Filter analyses videos documenting war crimes, but sees only war crimes
Social media platforms don't like to confront their users with content that might upset them. YouTube, for one, employs a filter to detect "extremist material". The result? Tens of thousands of video's documenting war crimes in Syria were blocked. All because the filter can't differentiate between footage documenting something and footage promoting something. Lesson learned? Filters don't understand context.
In short: filters fail. We can't have internet filters roaming the internet and ruling our freedom of speech. It won't end well for citizens. We need to make sure policy makers understand this.
What can you do?
The following weeks are crucial. Tweet or e-mail your representatives that are part of the European Parliament's Committee on Legal Affairs (JURI). On 20-21 June they will be deciding on the upload filter. Use the hashtag #CensorshipMachine or #filterfail and let your representatives know you're against the internet filter (Article 13)! You can find the Members of the European Parliament (MEPs) relevant to you here:

We've written some tweets to inspire you, but feel free to compose your own!
.@MEP Stand up for our freedom of expression online. Please oppose the #censorshipmachine in the #copyright Directive proposal.
.@MEP Stand up for our privacy online. Please oppose the #censorshipmachine in the #copyright Directive proposal."
.@MEP Show that you care about culture and free speech: oppose the #censorshipmachine in the #copyright Directive proposal."
.@MEP Internet filters don't work. Please delete article 13 of the #copyright Directive proposal! #filterfail
We already tweeted at MEPs in their own language, check it out.
https://edri.org/lets-stop-the-censorship-machine/
Time to stop the #CensorshipMachine: NOW! – Members of the Committee on Legal Affairs (JURI)
https://edri.org/contact-ep-juri/#JURI
Contact your representatives in the Legal Affairs (JURI) Committee of the European Parliament
https://edri.org/files/copyright/copyright_contact_juri.pdf