Facebook fails political ads tests several times
On 28 June 2018, Facebook announced it had set forth a compulsory "Paid for by" feature, limiting anonymity by requiring to submit a valid ID and proof of residence. This had been introduced in reaction to a series of election interference in the past year through foreign political advertising on social media platforms.
The tool was supposed to help reducing "bad ads", fighting against election manipulation and online disinformation. Since then, several experiments have been conducted to see whether ad manipulation is still possible on Facebook. Facebook failed all of these tests.
On 25 and 30 October 2018, VICE News – an online media service publishing news documentaries and reports owned by Vice Media, a North American digital media and broadcasting company – revealed that it had conducted experiments on Facebook's advertisement system. VICE News declared that it managed to pretend to be US Vice President Mike Pence, the US Democratic National Committee Chairman Tom Perez, the Islamic State and 100 US senators posting and sponsoring political ads on Facebook. The low quality of Facebook's screening is also challenged by the absurdity of the pages approved to share the ads such as 'Cookies for Political Transparency' and 'Ninja Turtles PAC'. As explained by VICE News, tricking the system was not difficult or did not require extra specific knowledge or competences.
On 31 October 2018, Business Insider revealed that it had also managed to set up a fake NGO page and run ads "paid for by Cambridge Analytica".
VICE News and Business Insider's investigations show that anyone can lie about the sponsoring of political ads. As a joint civil society report published by EDRi, Access Now and the Civil Liberties Union for Europe shows, unless the deeper problem of the business model that feeds these concerns is addressed, online disinformation or the underlying issue of online manipulation will not be resolved.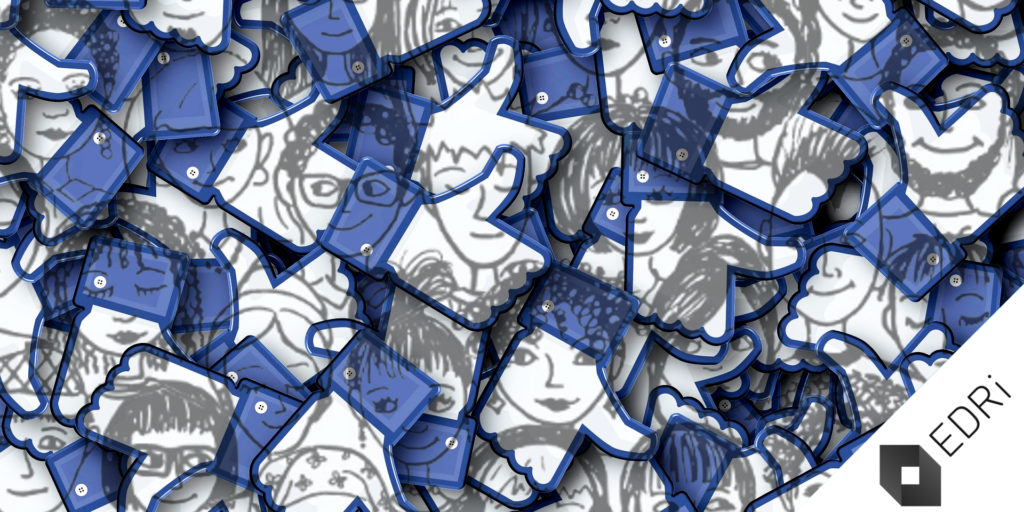 Informing the "disinformation" debate by EDRi, Access Now and Civil Liberties (18.10.2018)
https://edri.org/files/online_disinformation.pdf
Facebook's political ad tool let us buy ads "paid for" by Mike Pence and ISIS by William Turton, VICE News (25.10.2018)
https://news.vice.com/en_us/article/wj9mny/facebooks-political-ad-tool-let-us-buy-ads-paid-for-by-mike-pence-and-isis
We posed as 100 Senators to run ads on Facebook. Facebook approved all of them by William Turton, VICE News (30.10.2018)
https://news.vice.com/en_us/article/xw9n3q/we-posed-as-100-senators-to-run-ads-on-facebook-facebook-approved-all-of-them
We ran 2 fake ads pretending to be Cambridge Analytica — and Facebook failed to catch that they were frauds by Shona Ghosh, Business Insider (31.10.2018)
https://www.businessinsider.nl/facebook-approved-political-ads-paid-for-by-cambridge-analytica-2018-10/
(Contribution by Chloé Bérthélemy, EDRi intern)