Facebook's commitments on ToS: Much ado about nothing?
On 9 April 2019, the Directorate-General for Justice and Consumers of the European Commission (DG JUST), together with the Consumer Protection Cooperation (CPC) Network, cheered at the new Facebook commitments to amend its Terms of Services (ToS). The amendments should address the concerns already raised by national competition authorities about the current ToS. They should also provide the users with, among others, more transparency about the platform's business model, the mechanism for the removal of content, and those for suspending or terminating an account. Both the Commission and the CPC will closely monitor the implementation of these commitments. In case Facebook fails to properly meet them by the end of June 2019, national consumer authorities could decide to enforce consumer rules and eventually impose sanctions.

However, Facebook's ToS have been already subject to close scrutiny by a number of authorities in various EU Member States. The attention focused on the way the platform collects, processes and uses users' data, which constitutes an essential part of its business model. The German competition authority has recently used competition rules to address the ToS; the Italian competition authority, instead, has enforced unfair commercial practices' rules. In addition, national data protection authorities (DPAs) have raised concerns about the fact that Facebook's ToS do not adequately protect users' data. They are also questioning the admissibility of certain mechanisms of online advertising currently performed by the platform.
At European level, European Commission's Directorate-General for Competition (DG COMP) officials have often expressed perplexity with regards to Facebook's business model and at least some of its ToS. Furthermore, Directorate-General for Communications Networks, Content and Technology (DG CNECT) might look at Facebook's ToS under its policies concerning data, media and artificial intelligence and digital industry. To complete the picture, in April 2018, the European Commission, under the impulse of DG JUST, adopted the New Deal for Consumers package, composed of two proposals for Directives and a Communication, on which the European Parliament and Council reached a provisional agreement in March 2019.
Against this patchwork of initiatives, it is difficult to praise the latest Facebook's commitments as concrete advancement. First, there is the risk that Facebook (and other platforms in the future) can avoid in depth assessment of its conducts in enforcement actions (ran either by consumer protection authorities or by DPAs) by agreeing on vague and superficial changes in its ToS. By way of example, clearly explaining practices might not be a sufficient commitment when those practices are illegal under the General Data Protection Regulation (GDPR) or under competition rules. Moreover, the standard set in the commitments might result too low to adequately protect users' rights, such as privacy or freedom of expression.
In other words, as ToS can impact different users' rights and can be relevant under different legal instruments, their assessment shall be performed under all of them and not by consumer rules only. For this reason, in order to work properly in this sector, consumer protection authorities need to cooperate with DPAs and competition authorities, because effective enforcement of different rules cannot happen in silos. The same is true for the relevant DGs of the European Commission, whose initiatives shall be coordinated and take into account the impact on each other relevant policies and actions.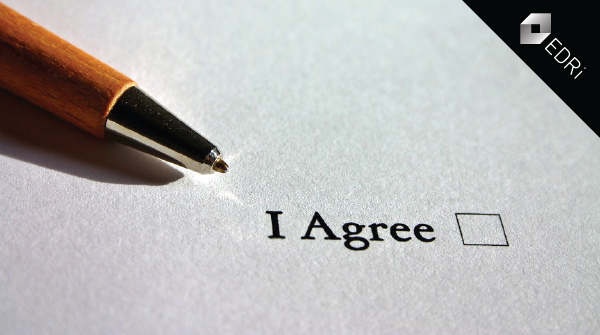 Article 19
https://www.article19.org/
Facebook changes its terms and clarify its use of data for consumers following discussions with the European Commission and consumer authorities (09.04.2019)
http://europa.eu/rapid/press-release_IP-19-2048_en.htm
Bundeskartellamt prohibits Facebook from combining user data from different sources (07.02.2019)
https://www.bundeskartellamt.de/SharedDocs/Meldung/EN/Pressemitteilungen/2019/07_02_2019_Facebook.html
Facebook fined 10 million Euros by the ICA for unfair commercial practices for using its subscribers' data for commercial purposes (07.12.2018)
https://en.agcm.it/en/media/press-releases/2018/12/Facebook-fined-10-million-Euros-by-the-ICA-for-unfair-commercial-practices-for-using-its-subscribers%E2%80%99-data-for-commercial-purposes
Review of EU consumer law – New Deal for Consumers
https://ec.europa.eu/info/law/law-topic/consumers/review-eu-consumer-law-new-deal-consumers_en
(Contribution by Maria Luisa Stasi, EDRi member Article 19, United Kingdom)