From EDRi to the World in 2016
Now more than ever civil society needs to stand together to fight against challenges to the protection of personal data, to our privacy, freedom of expression and access to knowledge. In the discussions about defending our online rights and freedoms, all voices must be heard. In 2016, EDRi increased its international activity to help spread a European perspective globally.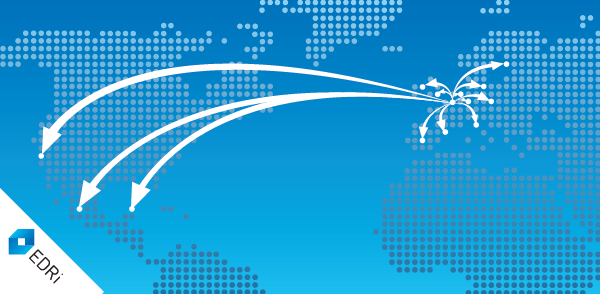 10 February: We explained to students of the University of Ghent how it is to work as an Advocacy Manager at EDRi
10-11 February: We participated in the Open Society Foundation Digital Rights movement retreat in Berlin
1-3 March: We made EU citizens' voice heard at the EU Observatory of Intellectual Property Infringements in Alicante
3-5 March: We participated in the Internet Freedom Festival and actively engaged in the Corporate Rapid Response Workshop organised by the Open Technology Fund Community Lab in Valencia
7-9 March: We spoke about EDRi's work at the University of Seville
11 March: We spoke at a Transatlantic Trade and Investment Partnership (TTIP) Symposium organised at the Trinity College and the Royal Irish Academy in Dublin
18-19 March: EDRi members and observers and the EDRi Brussels office gathered together in EDRi's General Assembly, hosted by our member Digitale Gesellschaft and EDRi observer Wikimedia Germany Hauptseite in Berlin
30 March – 1 April: We spoke at and participated in various sessions at RightsCon in San Francisco
21 April: We spoke at the conference on "Follow the Money", organised by the European Observatory on Infringements of Intellectual Property Rights in Rotterdam
22 April: We spoke at EDRi member Bits of Freedom's Friday "boffel" evening event in Amsterdam
2-4 May: We made presentations at re:publica in Berlin about "surveillance and control", and "how the EU works"
6 May: Together with EDRi observer X-Net, we met with the Spanish Telecoms Regulator on the EU net neutrality guidelines
20 May: We gave a talk on copyright at a Start-ups conference in Madrid
20 June: We participated in the Civil Society Information Society Advisory Council (CSISAC) meeting in Cancun
21-23 June: We participated in the Organisation for Economic Co-operation and Development (OECD) Ministerial Meeting in Cancun
21 June: We spoke at the Fundamental Rights Forum 2016, organised by the EU Fundamental Rights Agency (FRA) inVienna
1-2 September: We made a presentation at the MyData conference in Helsinki
7 September: We spoke at the Annual Privacy conference, organised by the European Union Agency for Network and Information Security (ENISA) in Frankfurt
14-15 September: We spoke at and participated in the Organization for Security and Co-operation in Europe (OSCE) meeting "Gaining a Digital Edge: Freedom of Expression" in Vienna
20 September: We spoke remotely at Greenpeace's press conference on the Trade in Services Agreement (TiSA) leaks in Geneva
27-29 September: We participated in the Observatory on IP Infringements' Plenary Meeting in Alicante
27-29 September: We spoke at the World Trade Organization (WTO) Public Forum on "Inclusive Trade" in Geneva
29 September: We spoke at the Council of Europe, Committee of experts on Internet Intermediaries (MSI-NET)
7 October: We spoke about the EU Terrorism Directive at "Das ist Netzpolitik" in Berlin
29-30 October: We spoke on copyright and prepared a session on how the EU works at MozFest in London
8 November: We spoke at a Confederation of Family Organisations in the European Union (COFACE) meeting in Berlin
25 November: We spoke at an Information Systems Audit and Control Association (ISACA) event on preparing for the General Data Protection Regulation (GDPR) in Luxembourg
28-29 November: We spoke at the Queen Mary University of London University "Uses of Technologies for Communications Surveillance"(QMUL-UTIC) Seminar on the oversight of intelligence service surveillance, terrorism and human rights at Science Po in Paris
30 November – 2 December: We spoke at the Observatory of IP Infringements working group meetings in Milan
4 December: We spoke on Trade and The Internet at the pre Internet Governance Forum (IGF) civil society meeting and actively participated in various workshops in Guadalajara
6-9 December: We spoke at the United Nations (UN) Internet Governance Forum (IGF) session "Meet TiSA: The trade agreement you've probably never heard of", participated in various workshops and held several meetings in Guadalajara

This non-exhaustive list represents the international events where the staff of the EDRi Brussels office has been presenting the European voice of digital rights. It complements the work that the EDRi members conduct around the world.
(Contribution by Maryant Fernández Pérez, EDRi)