German intelligence agency violates freedom of the press
EDRi observer Reporters Without Borders Germany is appalled by the apparently targeted surveillance of foreign journalists by the Bundesnachrichtendienst (BND), Germany's foreign intelligence agency. As reported by the Spiegel, the BND spied on at least 50 telephone numbers, fax numbers and email addresses belonging to journalists or newsrooms around the world in the years following 1999.

"We have long feared that the BND has monitored journalists as part of its massive filtering of communications data. The targeted surveillance revealed by the Spiegel investigation is a massive violation of the freedom of the press," said Christian Mihr, executive director of Reporters Without Borders Germany. Press freedom "is not a right granted by the graciousness of the German government, it is an inviolable human right that also applies to foreign journalists."
According to documents seen by Spiegel, among the targets were the British BBC in Afghanistan and London, the New York Times in Afghanistan, as well as mobile and satellite telephones of the news agency Reuters in Afghanistan, Pakistan and Nigeria.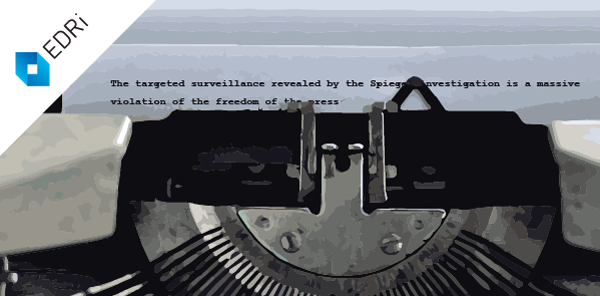 In October 2016 the German Parliament (Bundestag) passed the new law governing the BND. Exemptions protecting journalists, such as those in paragraph 3 of Germany's so-called G10 law – a law specifying the restrictions that can be placed on the constitutional right to the confidentiality of email and telecommunications – are completely absent from the law.
The BND law allows the German foreign intelligence agency to carry out mass surveillance and monitor Europeans, with certain restrictions, and citizens of third countries whenever this can ensure the "capacity for action" of Germany or bring "new findings of significance to foreign and security policy". Foreign journalists can thus quickly be targeted by the German foreign intelligence – especially when they exchange information about politically sensitive issues. The bill allows, for example, the BND to place the New York Times under surveillance if the newspaper received confidential information that the German authorities regarded as sensitive. This means that the new BND law legalises what the foreign intelligence agency did illegally before, that is spying on foreign journalists, as revealed by the Spiegel. "The reform of the BND bill was already a clear breach of the constitution. It does not alter the current practice of monitoring journalists," said Christian Mihr.
Together with other journalist associations and under the leadership of the Society for Civil Rights, Reporters without Borders is preparing a constitutional challenge to the new BND law.

BND violates freedom of the press
https://www.reporter-ohne-grenzen.de/presse/pressemitteilungen/meldung/bnd-ueberwachung-ist-verstoss-gegen-pressefreiheit/
Documents Indicate Germany Spied on Foreign Journalists
http://www.spiegel.de/international/germany/german-intelligence-spied-on-foreign-journalists-for-years-a-1136188.html
(Contribution by EDRi observer Reporters Without Borders Germany)