The slippery slope of COVID health passports
There is increasing talk of measures that allow or restrict passengers at the departure gate based on health data. Can you show proof of vaccination? Then you may pass. Do you have a recent, negative test result? Then you may enter. Are you unable or unwilling to show these? Then you are denied access. There's an understandable rationale that underpins these scenarios: we want to create a safe environment. Yet it is also cause for great concern.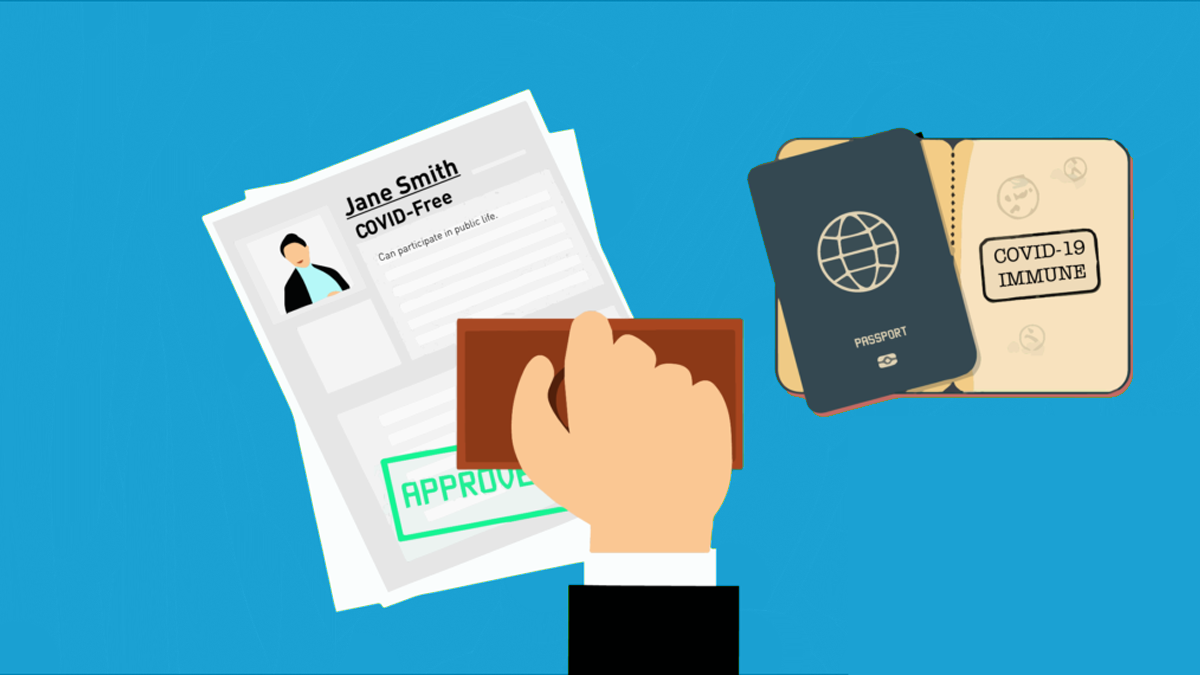 The association of Dutch pop theaters and festivals is in favor of making admission subject to proof of vaccination. The confederation of Dutch Industry and Employers (VNO-NCW) suggests a testing society that restricts access to work and transport subject to your ability to provide a negative test result. Online ticket vendor Ticketmaster wants proof of vaccination or a negative test result when concert venues open up again. The Ministry of Health, Welfare and Sport announced development of a new app, CoronaTester. While simply waiting until we can travel freely, visit concerts, go to festivals and work at the office together is not ideal, we find the proliferation of of these kinds of health passports quite alarming.
Passports deny access by definition
The purpose of passports is to distinguish between groups of people. It is tangible proof that you belong to a particular group within which certain rules apply. Yet, having different sets of rules apply to different groups of people also creates inequality in society. This will also be the case with health passports. This division is enhanced even further because the options to acquire the health passport are not equally divided. There will not be enough doses of the vaccine for everyone to begin with, nor is access to (speed)testing available equally. Certain professions have access to speedtesting while others don't. Finally, commercial test kits will be more accessible to people with expendable income to spend on it.
Democratic rule of law gone wrong
A democracy that is governed by the rule of law is based on freedom which can only be curtailed based on the law or an individual suspicion. The introduction of a health passport turns this on its head by treating all civilians as dangerous and requiring them to prove otherwise before they are allowed access to buildings and services that used to be freely accessible. A reversal like this which forces us to give a public account of our health as a prerequisite for access compromises a free society and one's rights to physical integrity, privacy and equal treatment.
Surveillance is getting under our skin
You are asked to provide data about the state of your body as a condition to entry. This is highly intimate and sensitive data. Even in the middle of a health crisis we should carefully judge whether sharing health data outside the medical realm is really necessary. We can not allow ourselves to blindly accept that such sensitive data must be provided in different contexts. At present we are being tested extensively for a virus in order to protect the health of ourselves and others, which is useful for medical and epidemiological reasons. But public health authority André Rouvoet has rightly remarked that the purpose of a testing society is to kickstart the economy and society.
It has to be voluntary…
To make such an app mandatory or a precondition to access has a catalytic effect on a host of other worries. The intrusion of a health passport is more profound when its use is enforced. It's one thing to freely accept more intimate surveillance, but to have it forced upon you is quite another matter. There's a difference between sharing data voluntarily with the security guard of a building and to be denied access unless you hand over these data. Making such apps mandatory puts us in a sticky situation as citizens: do you want to remain in control of your health data? Then you can't get in. You can no longer opt out without also being excluded from certain sections of society.
… and yet it can't be voluntary
Yet not making it mandatory means there will be people who lack proof of vaccination or a recent negative test result. It's not much use that other people can show that they have, since there is no proof that everybody who enters a certain space is free of the virus. This makes it no longer possible to guarantee the safety in that space, which was why this measure for selection at the gate would be introduced in the first place. A voluntary health passport would not work.
Fake guarantees
One final point of concern is that health passports can convey a false sense of security and are rife with uncertainties. Test results especially are highly ambiguous. This is because test results only report on the period before you walk into a place. How much time is acceptable to pass in between taking the test and being in public spaces? What's the validity of such a test result? How reliable is it and how can we regulate this?
A letter to Members of the Parliament
We have previously insisted that the use of the Dutch corona notification app CoronaMelder should be voluntary. We were not alone. Thankfully both parliament and senate were of the same opinion. We therefore sent a letter to several Members of Parliament informing them of the ministry's plans to develop the new app CoronaTester. We need their critical scrutiny again to safeguard the protection of our rights and liberties. We take pride in how well these safeguards were implemented in the Netherlands. We cannot allow development of this new app to undermine these efforts .
In response to our letter, the Dutch socialist party asked parliamentary questions about the CoronaTester and the affects of the app regarding equality in society and the guarantee of the use of the app being voluntary.
We understand that people are figuring out how to safely enjoy a drink together, visit a concert, and go on holidays. Let's ensure though that this solution is inclusive and let us not take lightly the sacrifices that we or others must make for this. Our free society, bodily integrity, privacy and right to equal treatment are on the line.
Credits: Thanks to Jasper Sprengers for making the translation of our Dutch blog to this English version.