LEAK: British EU Commissioner: ID check & prior approval for online posts
In a letter to Commissioner Mariya Gabriel obtained by EDRi1, the British European Commissioner, Sir Julian King, makes it clear that, not alone does he no longer find it acceptable that people should be able to communicate online without prior approval, he also objects to people communicating without being identified. Commissioner King is pushing the European Union towards an internet where freedom of expression is strangled by filtering and ID checks.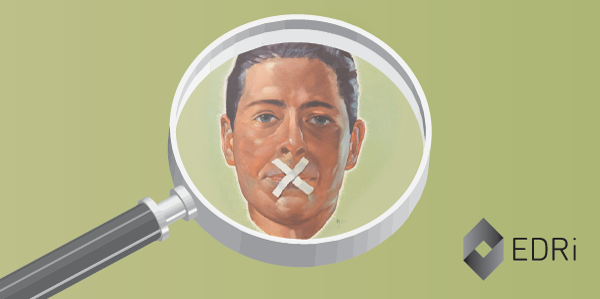 Filtering
For the past year, Commissioner King and his services have been strongly pushing for "upload filtering (pdf)" – the automatic approval of all uploads in all formats before they are put online. The aim is to ensure that nothing that was previously removed on the basis of the law, or the arbitrary terms of service of an internet company, or that is or has been assessed as being unwelcome or illegal by a guess made by an artificial intelligence programme can be uploaded or re-uploaded to the internet. If the European Commission succeeds in getting this principle accepted by the European Parliament in the Copyright Directive (vote is scheduled for 20-21 June 2018), it plans to rush out new legislation to cover other forms of content within weeks. It seems that some Members of the European Parliament (MEPs) are already being lobbied to push for this.
Paradoxically, while the European Commission uses populist demands about "all parties" making "more efforts and faster progress" on removing "illegal" content, the Commission itself has no idea how many items of allegedly illegal content that were flagged by the EU police cooperation agency Europol led to an investigation or a prosecution – clearly showing a lack of a serious, diligent approach "from all sides". "From all sides, except ours" might be more accurate.
ID Checks
Now, acting on his own initiative, Commissioner King has decided that "voluntary" identification (by companies that are eager to collect as much data about us as possible) is the next battle – this time in the fight against "online disinformation" (whatever that may mean) and to fight against abuse of data (collecting data as a way of avoiding collected data from being abused). Facebook's "real-name policy" has previously caused demonstrable harm to vulnerable and marginalised groups.
In the letter, King proposes multiple ways of achieving this control – such as through the WHOIS database of domain name owners, through surveillance of IPv6 internet protocol numbers (the European Court of Human Rights ruled this week (pdf) that a court order is needed to gain access to IP address data), "verified pseudonymity", and "other identification mechanisms".
UK perspective
Coincidentally or not, the British Conservative government, which appointed Commissioner King, last week launched an attack on social media companies for not properly verifying the ages of children. Social media companies, which profit from exploitation of our data, are unlikely to be very unhappy about government pressure to gather still more personal data.
When not fighting "fake news", the government that appointed Commissioner King allegedly spent more than one million pounds on negative Facebook adverts attacking the leader of the main UK opposition party during the 2017 general election. This is highly unlikely to be the kind of activity that Commissioner King is referring to when he talks about plans to "further limit the possibilities for using mined personal information for certain specific purposes, in particular political ones".
EDRi will keep working to ensure that EU policy-makers respect the Charter of Fundamental Rights of the European Union when proposing any legislative or non-legislative action to privatise law enforcement functions.
---
1 While we know that the Financial Times, (paywalled) if not others, have obtained a copy of this letter, we are not aware of it having been made public before today.