New Protocol on cybercrime: a recipe for human rights abuse?
From 11 to 13 July 2018, the Electronic Frontier Foundation (EFF) and European Digital Rights (EDRi) took part in the Octopus Conference 2018 at the Council of Europe together with Access Now to present the views of a global coalition of civil society groups on the negotiations of more than 60 countries on access to electronic data by law enforcement in the context of criminal investigations.

There is a global consensus that mutual legal assistance among countries needs to be improved. However, recognising its inefficiencies should not translate into bypassing Mutual Legal Assistance Treaties (MLATs) by going to service providers directly, thereby losing procedural and human rights safeguards embedded in them. Some of the issues with MLATs can be solved by, for example, technical training for law enforcement authorities, simplification and standarisation of forms, single points of contact or by increasing resources. For instance, thanks to a recent US "MLAT reform programme" that increased resources to handle MLATs, the US Department of Justice reduced the amount of pending cases by a third.
There is a worrisome legislative trend  emerging through the US CLOUD Act and the European Commission's "e-evidence" proposals to access data directly from service providers. This trend risks creating a race to the bottom in terms of due process, court checks, fair trials, privacy and other human rights safeguards.
If the current Council of Europe negotiations on cybercrime focused on improving mutual legal assistance, they could offer an opportunity to create a human rights-respecting alternative to dangerous shortcuts as proposed in the US CLOUD Act or the EU proposals. However, civil right groups have serious concerns from a procedural and substantive perspective.
This process is being conducted without regular and inclusive participation of civil society, or data protection authorities. Nearly 100 NGOs wrote in April 2018 to the Council of Europe's Secretary General because they are not duly included in the process. While the Council of Europe issued a response, civil society groups reiterated that civil society participation and inclusion goes beyond a public consultation, participation in a conference and comments on texts preliminary agreed by States. Human rights NGOs should be present in drafting meetings to learn from the law enforcement expertise of the 60+ countries and provide human rights expert input in a timely manner.
From a substantive point of view, the process is being built on the faulty premise that anticipated signatories to the Convention on cybercrime ("the Budapest Convention") share a common understanding on basic protections of human rights and legal safeguards. As a result of this presumption, it is unclear how the proposed Protocol can provide for strong data protection and critical human rights vetting mechanisms that are embedded in the current MLAT system.
One of the biggest challenges in the Council of Europe process to draft an additional protocol to the Cybercrime convention – a challenge that was evident in the initial Cybercrime convention itself and in its article 15 in particular – is the assumption that signatory Parties share (and will continue to share) a common baseline of understanding with respect to the scope and nature of human rights protections, including privacy.
Unfortunately, there is neither a harmonised legal framework among the countries participating in the negotiations nor a shared human rights understanding. Experience shows that there is a need for countries to bridge the gap between national legal frameworks and practices on the one hand, and human rights standards established by case law of the highest courts on the other. For example, the Court of Justice of the European Union (CJEU) held that blanket data retention is illegal under EU law on several occasions. Yet, the majority of the EU Member States still have blanket data retention laws in place. Other states involved in the protocol negotiations have implemented precisely the type of sweeping, unchecked, and indiscriminate data retention regime that the CJEU ruled out as well, such as Australia, Mexico or Colombia.
As a result of a lack of a harmonised human rights and legal safeguards protection, the forthcoming protocol proposals risk:
– Bypassing critical human rights vetting mechanisms inherent in the current MLAT system that are currently used to, among other things, navigate conflicts in fundamental human rights and legal safeguards that inevitably arise between countries;
– Seeking to encode practices that fall below minimum standards being established in various jurisdictions by ignoring human rights safeguards established primarily by the case law of the European Court of Human Rights, the Court of Justice of the European Union, among others;
– Including few substantial limits and instead relying on the legal systems of signatories to include enough safeguards to ensure human rights are not violated in cross-border access situations and a general and non-specific requirement that signatories ensure adequate safeguards (see Article 15 of the Cybercrime Convention) without any enforcement.
Parties to the negotiations should render human rights safeguards operational – as human rights are the cornerstones of our society. As a starting point, NGOs urge countries to sign, ratify and diligently implement Convention 108+ on data protection. In this sense, EDRi and EFF welcome the comments of the Council of Europe's Convention 108 Committee.
Finally, civil society groups urge the forthcoming protocol not to engage in a mandatory or voluntary direct access mechanism to obtain data from companies directly without appropriate safeguards. While the proposals seem to be limited to subscriber data, there are serious risks that interpretation of what constitutes subscriber data is expanded so as to lower safeguards, including access to metadata directly from providers by non-judicial requests or demands.
This can conflict clear court rulings from the European Court of Human Rights, such as the Benedik v. Slovenia case or even States' case law, such as that of Canada's Supreme Court. The global NGO coalition therefore reiterates that the focus should be put on making mutual legal assistance among countries more efficient.
Civil society is ready to engage in the negotiations. Until now however, the future of the second additional protocol to the Cybercrime Convention remains unclear, raising many concerns and questions.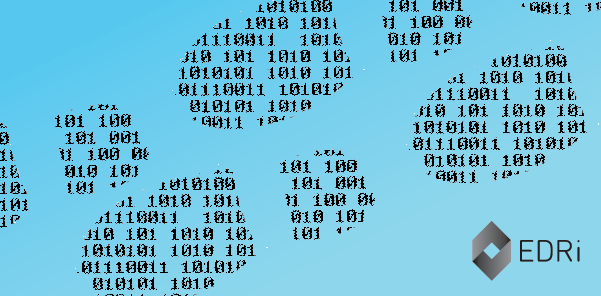 Read more:
Joint civil society response to discussion guide on a 2nd Additional Protocol to the Budapest Convention on Cybercrime (28.06.2018)
https://edri.org/files/consultations/globalcoalition-civilsocietyresponse_coe-t-cy_20180628.pdf
How law enforcement can access data across borders — without crushing human rights (04.07.2018)
https://ifex.org/digital_rights/2018/07/04/coe_convention_185_2ndamend_supletter/
Nearly 100 public interest organisations urge Council of Europe to ensure high transparency standards for cybercrime negotiations (03.04.2018)
https://edri.org/global-letter-cybercrime-negotiations-transparency/
A Tale of Two Poorly Designed Cross-Border Data Access Regimes (25.04.2018)
https://www.eff.org/deeplinks/2018/04/tale-two-poorly-designed-cross-border-data-access-regimes
Cross-border access to data has to respect human rights principles (20.09.2017)
https://edri.org/crossborder-access-to-data-has-to-respect-human-rights-principles/
(Contribution by Maryant Fernández Pérez, EDRi, and Katitza Rodríguez, EFF)