Online political ads – a study of inequality in transparency standards
In its new report, EDRi member PI looks into the implementation of transparency tools by Facebook, Google and Twitter in relation to political advertising. This work was produced in collaboration with partner organisations InternetLab and ELSAM.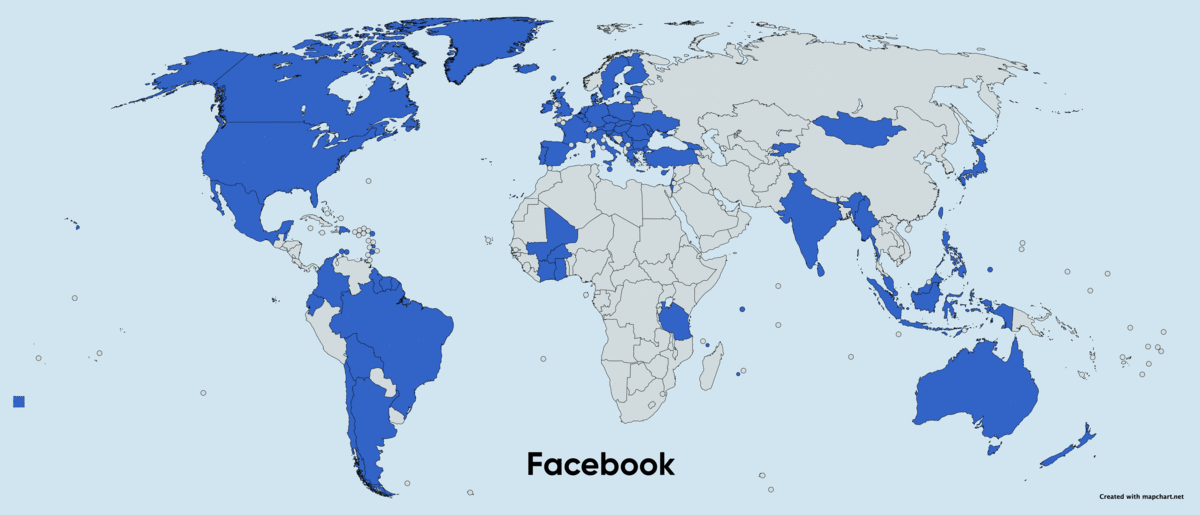 This map shows the countries in which Facebook and Google have implemented heightened transparency standards for political ads.
A year after having released its research on social media platforms' advertising transparency, PI reviewed their progress towards global and equal transparency standards. They found that social media platforms' regulation of political ads remains fragmented. Each platform's operations fluctuates and often employ widely differing transparency standards for different countries, which have the combined effect of creating a two-tiered system within each platform, with a wide regulatory gap separating the transparency haves and have-nots.
Background
PI commissioned in-depth studies on political ads transparency in two if the world's largest democracies: Brazil and Indonesia. Their partners InternetLab and ELSAM looked into Facebook, Google and Twitter's definitions of political and social issue ads, how these platforms were deploying transparency tools for political advertising in these countries (if at all), the adverse impacts of non-existent or limited transparency, and what could be done to improve the standards.
PI then carried out a comparative analysis of the electoral regulatory frameworks and online platform policy developments in these two countries. To inform their research, PI relied on publicly available information regarding the full range of transparency tools that the platforms make available to different countries, company policies, and reporting. They also asked Facebook and Google for clarification and have included wherever relevant their responses.
Findings
Heightened transparency standards are a privilege of the few
The US election was a clear illustration of the transparency divide between the haves and have-nots, as well as its ramifications. Google applied no less than two "sensitive event" policies resulting in temporary bans of political ads, and Facebook carried out at least five significant changes covering voter and census participation suppression, additional transparency checks for candidate spend, increased verification requirements for branded content, and user controls to see fewer political ads. In Facebook's case, some of these changes were part of a specific – and seemingly globally unique – plan to "protect the US election". The extent of these changes and the speed with which they were implemented is, to PI's knowledge, unrivalled in any other country.
The availability of transparency tools does not equate with their use
Facebook makes its transparency tools available globally. In some countries, such as the US and the EU, these tools are compulsory for advertisers to use. In others, they remain optional. With little incentive to comply with these optional tools, advertisers don't use them.
There is little clarity about the criteria used by any platform to regulate political ads in one given country
PI could not find any publicly available information detailing the internal processes by which social media platforms decide to regulate political ads in any given country. The difference in treatment can be stark. In Peru's 2020 congressional elections, political advertisers on Facebook were allowed to freely targets ads to users located in Peru without checks. However, the same advertisers were prevented from targeting ads to US-based users on account of having failed to comply with the mandatory transparency tools enforced in the US.
In the absence of ad repositories, harmful content can go undetected and unscrutinised
Across Facebook and Google, the regulation of political ads necessarily results in those ads being automatically recorded in ad repositories (Facebook's Ad Library, Google's Transparency Report), with detailed information about the ad. However, in the absence of regulation, ads seeking to exploit controversial political issues can fall through the cracks. This in turn makes it harder, if not impossible, for civil society to monitor any potential harms on democracy.
Apps such as WhatsApp and Instagram are becoming relevant political advertising platforms
Though lesser known as political campaigning arenas, the use of political ads in WhatsApp and Instagram has significantly increased. It is possible for Instagram ads to be included in the Ad Library – but only if they are shown in countries which benefit from political ads regulations.
Read the report and further analysis here.