Poland: Privatised law enforcement or protecting users' rights?
How to regulate content moderation policies of Facebook and other social media platforms is a challenge worldwide. In Poland, such a discussion has been ongoing for more than a year. A few months ago, the previous Minister of Digital Affairs Anna Strzezynska presented the proposal for a new bill, whose aim was to guarantee that Facebook users can exercise their freedom of expression in the scope guaranteed by Polish law, not Facebook terms of service. The idea was to create a fast judiciary path for users whose content was taken down. This idea was criticised by many as censorship, and therefore abandoned.

Recently, the Polish Ministry of Digital Affairs announced a vast success: The Polish government and Facebook have signed a Memorandum of Understanding, and Poland will be the first country where Facebook users will be able to challenge Facebook's decisions to not bring back the content which was blocked or deleted. This seems like a positive development from the point of view of protecting users' rights – finally! Regrettably, depending on the follow-up actions, the whole procedure might just be another step towards privatised law enforcement.
Currently, any Facebook user whose content is taken down can appeal this decision in an internal procedure in accordance with Facebook terms of service. Once the Memorandum of Understanding will be implemented, a point of contact will be established. The point of contact will submit to the company itself notifications by Facebook users whose contents, accounts or profiles were removed, with the aim for Facebook to perform an additional review based on its community standards. So, in the end, Facebook will decide on the results of the "appealing procedure" based on Facebook's rules and the contact point will be only an intermediary.
So what is the role of the Polish government is this procedure? As written in the Memorandum "The Ministry of Digital Affairs as a public entity playing a leading role in the development of the information society and electronic services have initiated this cooperation and will engage in promoting and communicating the contact point, whereas NASK [.pl – country code top-level domain (ccTLD) registry] as a project implementer will set up and operate the contact point's IT system."
Taking into account the objections against Facebook content moderation, it is surprising that the company needs the support and encouragement of the government to establish internal appeal procedure. Moreover, the procedure will be country-specific – only those with a "Polish Trusted Profile" will be able to appeal. Evaluating the role of the Polish Ministry also leaves many question marks – the biggest one is how such a procedure will strengthen "free expression [which] is key to a thriving society and giving everyone a voice is a positive force in the world, which increases the diversity of ideas shared in public discourse" as stated in the Memorandum.
Of course, there are some positive consequences to introducing such a procedure. Facebook will have to explain its decisions, which is not the case in the current internal proceeding, and users will finally find out what was the exact reason for their content being taken down. Moreover, Facebook will have to make the decision within 72 hours, which is significantly faster than currently.
For many, Facebook is one of the few available choices to exercise their freedom of expression online, for running a business, or for establishing social relations. Consequently, there should be specific guarantees and ways to bring claims to protect our rights in front of independent – not commercial – entity. A quick judicial path to challenge Facebook's decisions or another way to challenge its decision in front of the independent body should be discussed.
The Polish government claims the Memorandum of Understanding is only the first step, and that they are open to further discussion on how to regulate social media platforms. We can only hope that they will keep their word – otherwise this Memorandum only validates the social media platform's power to decide about our freedom of expression.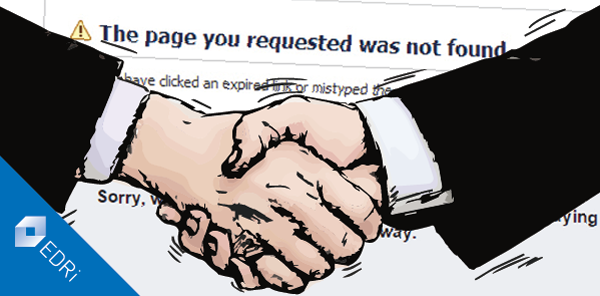 The first agreement of its kind: Ministry of Digital Affairs and Facebook (only in Polish)
https://www.gov.pl/web/cyfryzacja/pierwsze-tego-typu-porozumienie-ministerstwo-cyfryzacji-i-facebook
Memorandum of Understanding: Ministry of Digital Affairs and Facebook (.odt)
https://www.gov.pl/documents/31305/436699/Porozumienie_ws_utworzenia_Punktu_kontaktowego_-_tre%C5%9B%C4%87_PL_EN.odt/2d0fac0a-eabd-153e-a109-c8a47e8fcde0
The point of contact, launched on 14 December 2018 (only in Polish)
https://odp.gov.pl/
(Contribution by Natalia Mileszyk, Centrum Cyfrowe Foundation, Poland)