The privacy movement and dissent: Protest
This is the fourth blogpost of a series, originally published by EDRi member Bits of Freedom, that explains how the activists of a Berlin-based privacy movement operate, organise, and express dissent. The series is inspired by a thesis by Loes Derks van de Ven, which describes the privacy movement as she encountered it from 2013 to 2015.*
In order to describe, analyse, and understand the ways in which the privacy movement uses protest, it is important to bear in mind the internet plays an all-encompassing role. First, we can distinguish between actions that are internet-supported and actions that are internet-based. Protests that are internet-supported are traditional means of protest that the internet has made easier to coordinate and organise, whereas protests that are internet-based could not have happened without the internet. Second, there is the height of the threshold for people to become involved. A high threshold means that participating entails a high risk and level of commitment, while a low threshold means a low risk and level of commitment. In the privacy movement, internet-supported protest with a low threshold and internet-based protest with a high threshold are the most common forms of protest.

Internet-supported protest with a low threshold
The most common types of internet-supported protest with a low threshold that we find in the privacy movement are asking for donations and organising legal protest demonstrations.
The internet has given an impulse to donations: whereas in the analogue age the costs to coordinate such actions would outweigh the benefits, in the digital age collecting money has become much more accessible and easier. The Courage Foundation, for instance, collects donations for the legal defense of whistleblowers such as Edward Snowden and Lauri Love. Many other European organisations similarly offer their members and supporters the opportunity to make donations. However, it is worth noting that specifically in the case of the privacy movement, the threshold for donating money is higher than usual, as whistleblowing is a politically sensitive subject and community members have a heightened knowledge of privacy concerns associated with online payments. It is not surprising that donating via the anonymous digital currency Bitcoin is an option many organisations offer.
When it comes to demonstrations, the internet has also been an enhancing factor, as it has made the spreading and exchanging of information about the goal and practical details of a demonstration much easier. This also proves to be the case for demonstrations organised by the privacy movement. A fitting example of how the internet can help rapidly spread information and the effect that has on protest is the Netzpolitik demonstration held in Berlin on 1 August 2015. The announcement by Netzpolitik, a German organisation concerned with digital rights and culture, that two of their reporters and one source had been charged with treason, made thousands of people gather in the streets of Berlin to protest for the freedom of the press.
Here, too, it is worth considering how low the threshold for demonstrating actually is for activists within the privacy movement. In the analogue age it was difficult for governments to get a clear image of who exactly took part in a demonstration. Modern technology, however, has changed and continues to change the game. For instance, after participating in a protest, protesters in the Ukraine received a text message from their government that stated, "Dear Subscriber, you have been registered as a participant in a mass disturbance". Something similar happened in Michigan, USA, in 2010. After a labour protest the local police asked for information about every cellphone that had been near the protest. Thus, the height of the risk that is involved in these sorts of protest is definitely worth reconsidering, especially when reflecting on a movement with so much awareness of (digital) surveillance.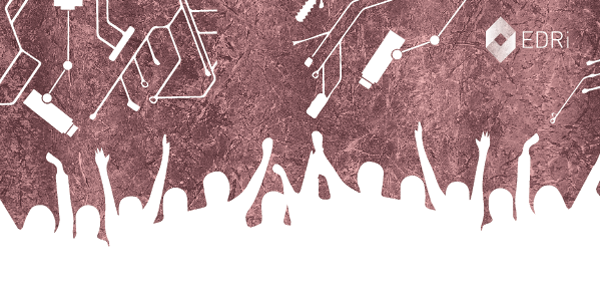 Internet-based protest with a high threshold
Internet-based actions with a high threshold include protest websites, alternative media, culture jamming, and hacktivism.
Protest websites are websites that "promote social causes and chiefly mobilise support". The privacy movement is involved in a number of these sorts of websites, for example edwardsnowden.com and chelseamanning.org, which are dedicated to whistleblowers and explain how supporters can help them, and savetheinternet.com, which asks supporters to take action in protecting net neutrality.
Alternative media have proven to be a crucial part of how the privacy movement voices dissent and "bears witness", as the internet has made it possible to circumvent mass media and has reduced the effort to spread information to a large audience. A well-known example of alternative media, emerging from the privacy movement, is The Intercept, an online news organisation co-founded by Glenn Greenwald, Laura Poitras, and Jeremy Scahill. This newspaper aims, according to its website, to "[produce] fearless, adversarial journalism" and focuses on stories that provide transparency about government and corporate institutions' behaviour.
Culture jamming is a form of protest where corporate identity and communications is appropriated for the protesters' own goals, using tactics such as "billboard pirating, physical and virtual graffiti, website alteration, [and] spoof sites". An example for spoof sites is the Twitter account: @NSA_PR, or NSA Public Relations in full, a reaction to the actual official Twitter account the public relations department of the US National Security Agency that was launched at the end of 2013. The spoof account often responds to recent surveillance and security issues in a humorous way. For example, when WikiLeaks published documents about the NSA's interception of French leaders, NSA Public Relations posted, "Parlez-vous Français?".
Hacktivism is the last form of internet-based protest with a high threshold. It is defined as "confrontational activities like DoS attacks via automated email floods, website defacements, or the use of malicious software like viruses and worms". These activities are not commonly used within the privacy movement. Instead a ""digitally correct" form of hacktivism is practised. Digitally correct hacktivism designs computer programs that help confirm and accomplish their political aims. Of the many programs that exist, two of the most well-known and widely used programs for this kind of protest are the Tor Project web browser and Pretty Good Privacy. Both programs are designed to secure the user's privacy. Whereas it is debatable whether direct action hacktivism is legal or not, the use of the Tor browser and email encryption are, of course.
The digital age has undeniably affected the way in which social movements protest. Traditional forms of protest have become internet-supported, but additionally there are also forms of protest being used that cannot even exist without the internet. This is even more the case for the privacy movement. For a movement that is so intertwined with the internet, we see that it is difficult to even make the distinction between online and offline protest, and that it comes up with its own specific alterations to already existing forms of protest.
The series was originally published by EDRi member Bits of Freedom at https://www.bof.nl/tag/meeting-the-privacy-movement/
Dissent in the privacy movement: whistleblowing, art and protest (12.07.2017)
https://edri.org/dissent-in-the-privacy-movement-whistleblowing-art-and-protest/
The privacy movement and dissent: Whistleblowing (23.08.2017)
https://edri.org/the-privacy-movement-and-dissent-whistleblowing/
The privacy movement and dissent: Art (04.10.2017)
https://edri.org/the-privacy-movement-and-dissent-art/
(Contribution by Loes Derks van de Ven; Adaptation by Maren Schmid, EDRi intern)
* This research was finalised in 2015 and does not take into account the changes within the movement that have occurred since then.
---
Sources:
Della Porta, Donatella, and Mario Diani. Social movements. An Introduction. Malden: Blackwell Publishing, 2006.
Van Aelst, Peter, and Jeroen van Laer. "Internet and Social Movement Action Repertoires. Opportunities and Limitations." Information, Communication & Society 13:8 (2010): 1146-1171.