#PrivacyCamp20: Technology and Activism
The 8th annual Privacy Camp will take place in Brussels on 21 January 2020.
With the focus on "Technology and Activism", Privacy Camp 2020 will explore the significant role digital technology plays in activism, enabling people to bypass traditional power structures and fostering new forms of civil disobedience, but also enhancing the surveillance power of repressive regimes. Together with activists and scholars working at the intersection of technology and activism, this event will cover a broad range of topics from surveillance and censorship to civic participation in policy-making and more.

The call for panels invites classical panel submissions, but also interactive formats such as workshops. We have particular interest in providing space for discussions on and around social media and political dissent, hacktivism and civil disobedience, the critical public sphere, data justice and data activism, as well as commons, peer production, and platform cooperativism, and citizen science. The deadline for proposing a panel or a workshop is 10 November 2019.
In addition to traditional panel and workshop sessions, this year's Privacy Camp invites critical makers to join the debate on technology and activism. We are hosting a Critical Makers Faire for counterculture and DIY artists and makers involved in activism. The Faire will provide a space to feature projects such as biohacking, wearables, bots, glitch art, and much more. The deadline for submissions to the Makers Faire is 30 November.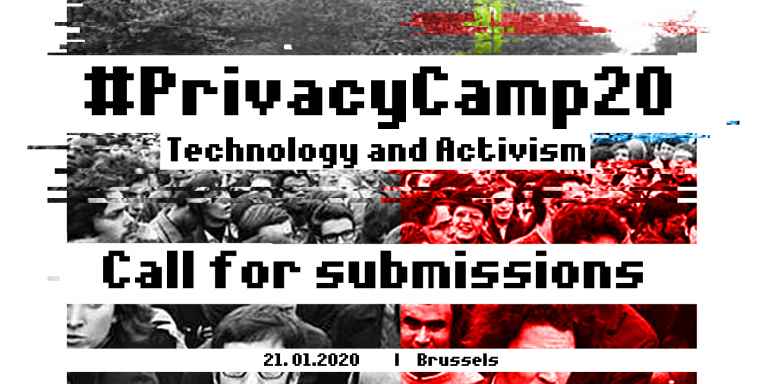 Privacy Camp is an annual event that brings together digital rights advocates, NGOs, activists, academics and policy-makers from Europe and beyond to discuss the most pressing issues facing human rights online. It is jointly organised by European Digital Rights (EDRi), Research Group on Law, Science, Technology & Society at Vrije Universiteit Brussel (LSTS-VUB), the Institute for European Studies at Université Saint-Louis – Bruxelles (USL-B), and Privacy Salon.
Privacy Camp 2020 takes place on 21 January 2020 in Brussels, Belgium. Participation is free and registrations open in December.
Privacy Camp 2020: Call for submissions
https://privacycamp.eu/?p=1601
Privacy Camp
https://privacycamp.eu/
(Contribution by Dean Willis, EDRi intern)