#ReclaimYourFace and help prevent the end of privacy as we know it!
Facial recognition and other biometric surveillance threatens the core of our right to privacy and data protection by surveilling and judging us. This is why across Europe, we're calling to ban biometric mass surveillance practices. We're counting on EU citizens to sign our ECI petition, and on everyone to spread the word and make sure that European governments cannot ignore our demand.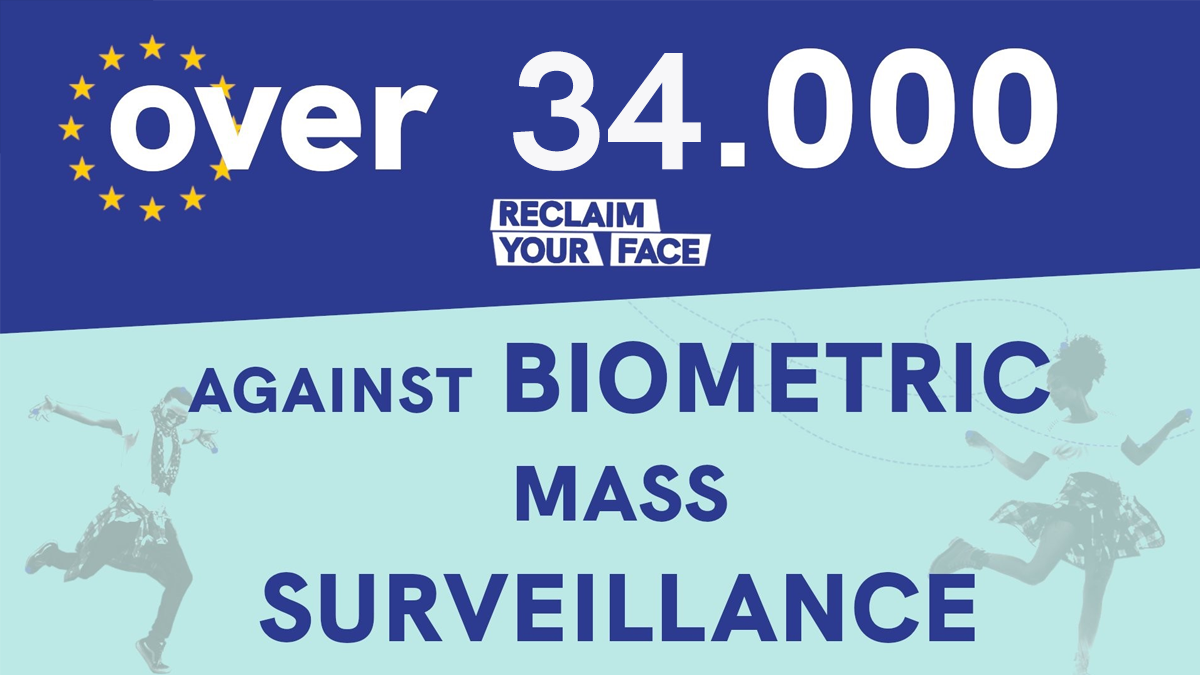 Unless we take strong action, people in Europe could soon face the end of our privacy and anonymity in public spaces as we know it. We have relied on EDRi's supporters in the past to courageously stand up for digital rights by joining us to Save Your Internet from upload filters and to put an end to ACTA. Together, our voices have created the opportunity for real change.
Now, we need to rise up once again – this time against the growing use of sinister, unnecessary and disproportionate technologies in our public spaces which abuse our faces, and other sensitive biometric data about who we are and where we go. Governments and corporations do this in order to judge, track and control us. We need your help to challenge these abuses and make sure that our public spaces remain free for all of us, and that our sensitive biometric data stays protected. The dystopian orwellian alternative does not bear thinking about.
Throughout this year, 47 organisations, led by European Digital Rights, will be calling on the European Union and its Member States to take decisive action to put an end to facial recognition and similar surveillance tech in our public spaces, which have no place in a democratic society. We're doing this by asking the European Commission to propose a legal ban on all uses of biometric technologies that can lead to mass surveillance.
You may be among the 34,000+ incredible supporters who have already joined the fight by officially signing our formal "European Citizens' Initiative" (ECI), a special type of petition with legal force in the EU. If so – we want to say thank you!
Yet if we are going to reach the required goal of one million signatures, we're going to need even more help. That's why we're calling on all of EDRi's supporters to not only sign the ECI (if eligible*), but also to spread the word, mobilise your friends and family and even write to your national or European Parliamentary representatives to help make sure that we are heard. For more information about the movement, see our website. If you have any other ideas about how to raise the profile of the ECI, you can contact the campaign co-ordinators at .
Each ECI has the chance to lead to real change because it obliges the European Commission, European Parliament, and representatives from each of our EU Member States to listen to what we have to say. Through the Reclaim Your Face campaign coalition, we have created the platform for our opposition to biometric mass surveillance to be truly heard – and now we are counting on you to be a part of this powerful democratic process. We're counting on you to reclaim your face, so that we can reclaim public spaces for everyone.
* Due to the rules set by the European Commission, only EU citizens can sign the ECI. This includes people with dual nationality (of which at least one must be from an EU country) and EU citizens living outside the EU. However, we recognise that people who don't have EU citizenship can often be even more harmed by the rise of biometric mass surveillance in Europe. So if you are an EU citizen, we encourage you to sign the petition not only for the rights and safety of yourself and your family – but for all of the people whose voices are not currently represented in this process.