Looking for a New Years' Resolution? #ReclaimYourFace with our citizens' initiative!
Since its launch just 2 months ago, the Reclaim Your Face campaign to ban biometric mass surveillance has gone from strength to strength. Already 23 organisations have joined the coalition, and almost 13,000 people have joined the movement – and this is only the beginning.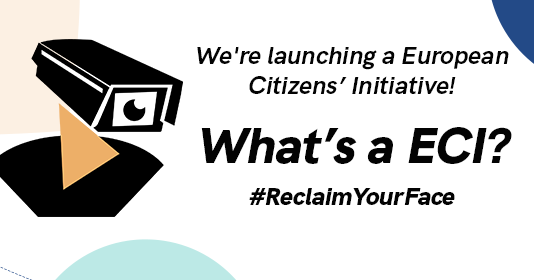 Behind the scenes, we are busy forming even more alliances, organising at a national level, performing investigations and gathering evidence in our bid to protect people's faces and public spaces as places for each of us to live our lives how we choose.
Now, hot off the press, we would like to share with you the exciting, EU-wide next step from the Reclaim Your Face campaign: a European Citizens' Initiative, or 'ECI'! The EDRi network have already been calling out the harms and risks of facial recognition and other forms of biometric mass surveillance.
With this new ECI, we have the power to call on the European Commission to propose a new law to safeguard all our rights and freedoms from biometric mass surveillance – as long as we get 1 million EU citizens to support us. So what exactly is an ECI? And how can you help out and make sure we reach our goal?
Read more…
The European Commission explains that "[t]he European Citizens' Initiative is a participatory democracy instrument, allowing Europeans to have a greater say in EU policies that affect their lives. It lets you join others from across the EU to rally around an issue close to your heart, foster debate around it and initiate reforms by proposing concrete legal changes."
The Commission continues that "[o]nce an initiative has reached 1 million signatures, the Commission will decide on what action to take," including meeting with the organisers and issuing a Communication about the subject matter – which means we have a unique opportunity to discuss and debate the idea for a new law to prohibit biometric mass surveillance.
It's a chance to show national and European leaders what is important to us: the protection of our democracy, the preservation of our individual autonomy, and the respect for our community practices and spaces.
That's where our Reclaim Your Face ECI comes in. Successfully registered on 7 January 2021, our ECI proudly states that "[w]e call on the European Commission to strictly regulate the use of biometric technologies in order to avoid undue interference with fundamental rights.
In particular, we ask the Commission to prohibit, in law and in practice, indiscriminate or arbitrarily-targeted uses of biometrics which can lead to unlawful mass surveillance."
We hope you'll join us, and spread the word far and wide. For now, the best thing you can do is sign up for our mailing list to stay informed about when the ECI launches (you can do this by signing up to EDRi's campaigns mailing list here or via the 'Keep me informed' button on the Reclaim your Face website) and to offer your skills and time to make the campaign even more of a success here.