Upload filters? Still no, thanks
Together with thousands of protestors, EDRi has fought against mandatory upload filters in the Copyright Directive. Despite the Directive having been adopted, including the infamous Article 13 (now 17) that could lead to upload filters, the Directive allows for some flexibility to prevent the worst impacts on our freedom of expression.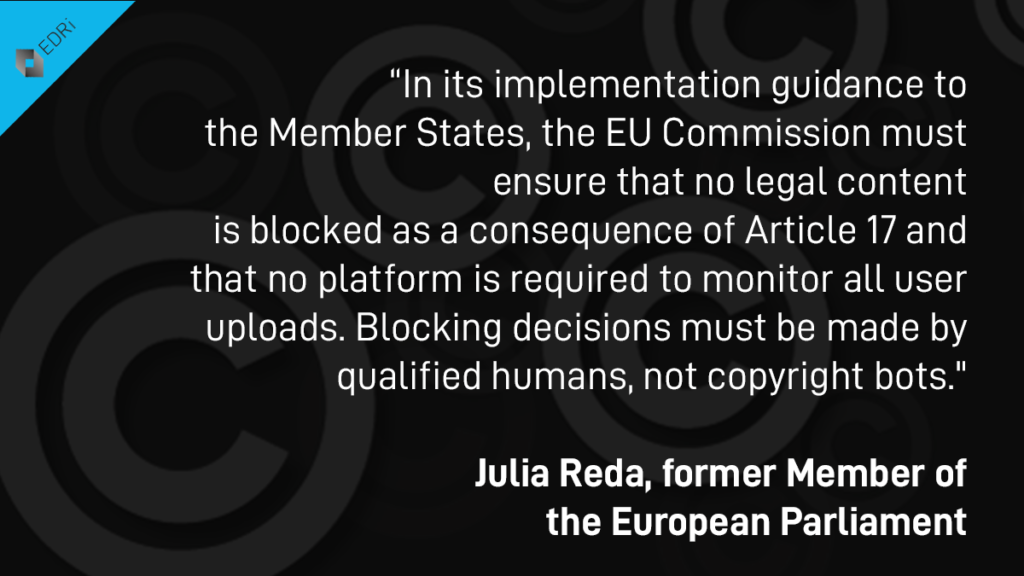 Saving the Internet from mandatory upload filters was one of our core objectives last year. Along with human rights groups, internet luminaries, UN Special Rapporteurs and millions of citizens we raised our voices to prevent what Edward Snowden has identified as a threat to the free and open internet.
Now that the Directive is adopted, Member States have to implement it by June 2021. The Commission now has the difficult task of trying to reach a consensus between stakeholders and Member States on how Article 17 is to be implemented. EDRi has been actively defending internet users' rights in this stakeholder dialogue, and has now been asked for further input into a consultation that would help the Commission to draft implementation guidelines.
In our response to this consultation which was coordinated by our German member Gesellschaft für Freiheitsrechte e.V. our main demands are:
– Spell out clearly who the law applies to: The definition of platforms (online content-sharing service providers) must be well-defined to avoid that all sorts of services are covered by the Directive. More specifically, we demand that Article 17 be strictly limited to those profit-making platforms that play an important role on the market for copyrighted content by competing with streaming services like Netflix or Spotify – all other platforms may have huge numbers of user uploads, but they were never the intended target of the entertainment industry that lobbied for Article 17. We must not let those platforms become collateral damage.
– Size matters: The size of the platform hosting copyrighted content should be taken into account when determining whether a particular copyright license offer is fair. Platforms should never have to accept license offers for types of content that are atypical for their service, just because it's impossible to prevent a particular type of content from being uploaded. The principle of proportionality requires that the cost of obtaining licenses strikes a fair balance with the revenues of the service provider.
– Did we mention that we didn't want mandatory upload filters?: The guidance should explicitly state that obligations in the Directive should never oblige platforms to monitor user uploads. EDRi welcomes the Commission clarification that Art. 17 does not mandate the use of content recognition technologies, and that any solution must comply with the requirements in the Directive and must not lead to the deletion of legal content.
– Keep copyright bullies away: The guidance should provide Member States with concrete mechanisms to sanction the abuse of the system by individuals or companies launching unfounded claims to take down content they don't like or that they claim is theirs when it is not.
– Going to court: The guidance should clarify that citizens have the right to go to court in their country of residence if their rights are infringed upon by platforms or (alleged) rightsholders. The guidance should also require Member States to allow consumer or human rights organisations to bring collective court actions on behalf of users.
– GDPR still applies: The guidance should address data protection concerns that arise from the implementation of Article 17, especially if national implementations lead to the use of upload filters. According to Art. 22 para. 1 of the GDPR, persons may not be subjected to an automated decision if that decision has any legal effect on them or significantly affects them in a similar way. Upload filters would most likely lead to such negative impact on individuals,. The guidance should therefore ensure compliance of national implementations with the GDPR and include safeguards for the protection of the users' data.
We welcome that the Commission is heading towards the right direction to avoid the worst implementation of the Directive by making it clear that the possibility to complain after legal content has been deleted is far from sufficient to protect users' rights. Multinationals of the music and film industry, as well as big tech, will do their best to oppose any implementation that places the rights of people over those of private entities. It is up to human rights and civil rights groups to make copyright fit for the XXI century, even with the impractical tools and laws we have at hand.
Read more:
EDRi response to the targeted consultation on the implementation of Article 17 of the copyright Directive: https://edri.org/wp-content/uploads/2020/09/20200909-EDRi_response_stakeholders_consultation_copyright.pdf
Save Your Internet campaign page:www.saveyourinternet.eu
Copyright stakeholder dialogues: Filters can't understand context
https://edri.org/copyright-stakeholder-dialogues-filters-cant-understand-context/
EU copyright dialogues: The next battleground to prevent upload filters (18.10.2019)
https://edri.org/eu-copyright-dialogues-the-next-battleground-to-prevent-upload-filters/
NGOs call to ensure fundamental rights in copyright implementation (20.05.2019)
https://edri.org/ngos-call-to-ensure-fundamental-rights-in-copyright-implementation/
(Contribution by Diego Naranjo, Head of Policy from EDRi)