#ValuesGap: Commercial interests win where all others fail
A European Parliament Committee decided that filtering all uploads to the internet as a method to prevent terrorism and "the most harmful content" is unacceptable. However, the same Committee decided that the same policy is acceptable for restricting use, including legal use, of copyrighted material.

On 11 July 2017, the European Parliament Committee on Culture and Education (CULT) voted on its Opinion on European Commission's proposal for a Copyright Directive. The Opinion adopted by the Committee proposes measures to filter all uploads to the internet to prevent the uploading of copyrighted material (including perfectly legal use of the material).
In April 2017, the same committee adopted a report on the Audiovisual Media Services Directive (AMSVD). Included in that report was a demand to prohibit the use of upload filtering for "the most harmful content".
Indeed, the CULT Committee explicitly voted for an amendment that would even prohibit certain legal uses of copyrighted material. Proposals for increased liability of internet companies would also lead to even more restrictions of legal uses of content. The Committee have voted on stricter restrictions on legal use of copyrighted material than for illegal incitement to violence.
The highest court in the EU has already twice ruled against the use of filtering, based on the risk it poses to freedom of expression, privacy and freedom to conduct a business. Even this fact was not enough to stop the Committee from demanding illegal restrictions. According to some Parliamentarians, requiring internet companies to search for millions of individual pieces of copyrighted material is not a "general obligation to monitor" the internet. They argue that searching for millions of files is in line with the existing E-Commerce Directive, which permits an obligation to search "in a specific case". This is also the official view of the European Commission.
The CULT vote on prohibiting upload filtering is logical and reasonable in the light of the clear danger it poses to citizens' rights and freedoms, not least because automatic content recognition cannot understand context and because there is no evidence it would actually solve any current problems. The CULT vote in favour of upload filtering of legal uses of legal content is, on the other hand, entirely incomprehensible.
The mixed messages communicated to European citizens by the contradictions between the Committee's positions are striking. It supports strong (entirely appropriate) restrictions on measures even when they are ostensibly to defend society. At the same time, it supports excessive, disproportionate, inappropriate restrictions on society's freedoms when seeking to protect commercial interests. This sends a very disturbing message about the MEPs' values.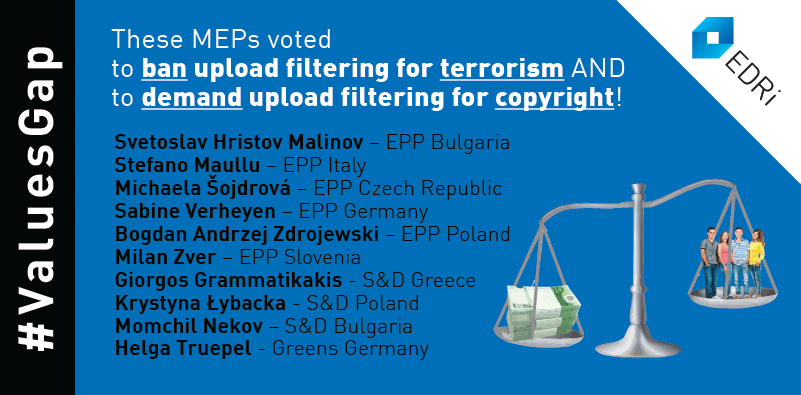 These MEPs voted to ban upload filtering for "the most harmful content", but in favour of upload filtering in the vote for copyright:
Svetoslav Hristov Malinov – EPP Bulgaria
Stefano Maullu – EPP Italy
Michaela Šojdrová – EPP Czech Republic
Sabine Verheyen – EPP Germany
Bogdan Andrzej Zdrojewski – EPP Poland
Milan Zver – EPP Slovenia
Giorgos Grammatikakis – S&D Greece,
Krystyna Łybacka – S&D Poland
Momchil Nekov – S&D Bulgaria
Helga Truepel – Greens Germany