Von der Leyen: An ambitious agenda for digital rights
On 16 July 2019, the European Parliament elected Ursula von der Leyen as President of the European Commission with 383 votes, which is only nine votes above the minimum needed. Parts of the Socialists, Liberals, and Greens initially had doubts regarding the candidate. However, her speech in the Plenary before the vote and the agenda that incorporated a number of key issues to Greens and Socialists probably had an influence in changing some MEP's minds. The European United Left / Nordic Green Left (GUE-NGL) group continued to oppose von der Leyen because of her lack of ambition on social policies and climate change, on top of her background as Minister of Defence.
Her "agenda for Europe" includes six key areas, one of which is dedicated to how to make "Europe fit for the digital age".
Towards a "Europe fit for the digital age"?
Most pressingly, within her first 100 days in office, von der Leyen wants to propose a legislation on the human and ethical implications of artificial intelligence (AI). It's difficult to foresee how, even if building from the work already done by the High-Level Expert Group working on AI, the Commission could possibly do, within this timeframe, all internal preparations, public consultations and inter-service consultations necessary in order to formulate a meaningful and future-proof piece of legislation on this topic.
We agree with von der Leyen with her aims of achieving technological sovereignty in "some critical technology areas". Even though Europe has set a strong agenda on data protection and competition, building the necessary hardware and software that, among other features, protect privacy by design and by default could ensure better protection for all.
After the adoption of the Copyright Directive and the Terrorist Content Regulation, which both regulate some types of online content, it has now become popular to also look at updating the old E-Commerce Directive. The Directive dates back to the year 2000 and since then remains one of the cornerstones of European internet regulation. Von der Leyen has made updating it one of the goals of her Commission Presidency: a new "Digital Services Act" will be proposed in order to "upgrade our liability and safety rules for digital platforms, services, and products". The devil of this proposal-to-come is in the details. Not all of what has leaked out of the Commission so far about the Digital Services Act gives reason for concern. But policymakers' desire to force US-based platforms to assume more responsibility in tackling unwanted online content may just lead to increased censorship in over-removal of totally legal expressions of opinion.
The Council needs to be pushed, too
Von der Leyen's proposal to "jointly define standards for this new generation of technologies that will become the global norm" is welcome. A first good step would be if she led the Council of the European Union into promptly adopting a General Approach on the ePrivacy Regulation, which has been blocked by Member States for now almost 1000 days.
Of course, von der Leyen's proposals, including the non-digital ones, are merely a general framework and not a workplan. So much more needs to be done by the Commission to meet the criticism over a lack of ambition regarding certain policies, such as climate emergency.
The coming months will be key for civil society to make sure that the EU starts implementing the "human-centric" vision emphasised by von der Leyen, and upholds the values of sustainability to fight climate emergency, social justice to prevent poverty, as well as more democracy and transparency to prevent authoritarian tendencies. In order to do all of this, the protection of fundamental rights in a technology-intensive and increasingly interconnected environment will be more necessary than ever.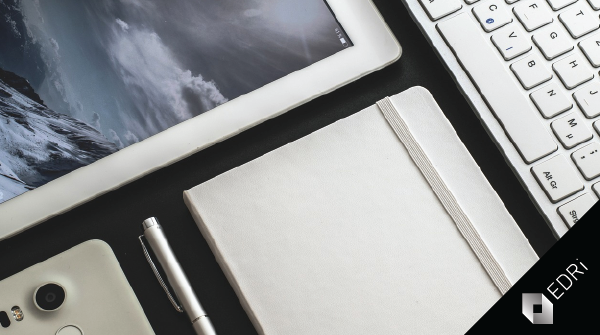 More responsibility to online platforms – but at what cost? (19.07.2019)
https://edri.org/more-responsibility-to-online-platforms-but-at-what-cost/
E-Commerce review: Opening Pandora's box? (20.06.2019)
https://edri.org/e-commerce-review-1-pandoras-box/
E-Commerce review: Technology is the solution. What is the problem? (11.07.2019)
https://edri.org/e-commerce-review-technology-is-the-solution-what-is-the-problem/
Civil society calls Council to adopt ePrivacy now (05.12.2018)
https://edri.org/civil-society-calls-council-to-adopt-eprivacy-now/