04 Apr 2018
SHARE Foundation is a Serbian non-profit organisation founded in 2012, with the goal to fight for the public interest in every critical battle affecting digital rights.
In November 2016, EDRi member SHARE contributed to derailing a Draft Strategy on Intellectual Property 2016-2020 by the Serbian Ministry of Education, Science and Technological Development. The proposed document contained measures such as the removal of "disputed" websites, without distinguishing different types of the content, it proposed seizures and takedowns of domain names of websites facilitating copyright infringement, collecting data on transactions from online payment service providers and online advertising providers, seizing of property, and so on. It also included plans for an intelligence database for information regarding locations and suspicious persons, accessible to all state institutions authorised to enforce "intellectual property" rights. SHARE Foundation gathered civil society, the IT and startup community, cultural and scientific institutions, entrepreneur associations and media organisations to stand against this draft, which was not adopted in that form.
In November 2015, the Ministry of Justice presented a problematic Draft Law on Personal Data Protection. It proposed a very wide range of possibilities to access citizens' personal data without adequate control mechanisms and failed to regulate numerous forms of personal data processing, such as video-surveillance, biometric data processing, and direct marketing. The Commissioner for Information of Public Importance and Personal Data Protection, together with SHARE Foundation and civil society, media and human rights organisations heavily criticised the draft, which was eventually dropped. In late 2017, the Ministry of Justice published a new Draft Law on Personal Data Protection for public discussion, based on the EU General Data Protection Regulation (GDPR).
In late 2014, a proposal to amend the Gambling Law was introduced in the National Parliament of Serbia. It contained a provision which would compel Internet Service Providers (ISPs) to block access to gambling websites which did not have permission of the Serbian Gambling Administration to provide gambling services. Had it been adopted, this provision would effectively introduce national internet filtering, with numerous consequences for internet freedoms. SHARE Foundation wrote a legal and technical analysis of this dangerous legislation and called all relevant actors to join the fight against the proposed amendments. The Government of Serbia soon pulled the proposal from the parliamentary procedure.
In December 2014, in the biggest personal data leak in history of Serbia, names and unique personal identification numbers of more than five million citizens of Serbia, almost entire adult population, were publicly available on the official website of the Privatization Agency of Serbia. SHARE Foundation found out about the database, notified the Commissioner for Information of Public Importance and Personal Data Protection, and the access to the database was promptly disabled. After the database had been disabled, SHARE Foundation notified the public in order to prevent further abuse of personal data.
During public discussions on new media laws, SHARE Foundation proposed that social networking pages and profiles, personal websites, blogs, forums and other online platforms are not considered media by law, unless they willingly register as media in the Media Registry, kept by the Agency of Business Registers of Serbia. Law on Public Information and Media, adopted in 2014, Article 30, paragraph 2 specifically states that "…media, in the sense of this law, are not: platforms, such as internet forums, social networks and other platforms which enable free exchange of information, ideas and opinions of their members, nor any other independent electronic publication, such as blogs, web presentation and similar electronic presentations, unless they are registered in the Media Registry, in accordance with this law."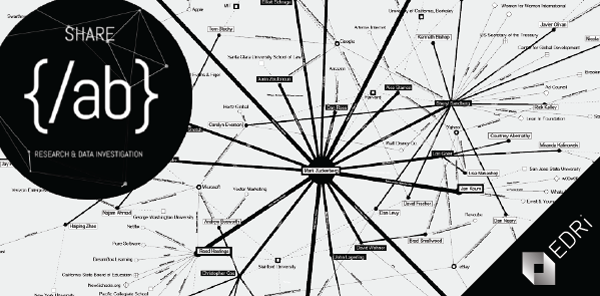 Member in the spotlight: SHARE Foundation (19.04.2017) https://edri.org/member-spotlight-share-foundation/
SHARE Foundation honoured with a certificate of gratitude (8.02.2017) https://edri.org/share-foundation-honoured-with-certificate-gratitude/
Info warfare in Serbia: The hidden hand of internet interventionism (30.11.2016) https://edri.org/info-warfare-serbia-hidden-hand-internet-interventionism/
Online freedoms in Serbia still under threat, analysis shows (27.08.2014) https://edri.org/online-freedoms-in-serbia-still-under-threat/