About EDRi
European Digital Rights (EDRi) is an association of civil and human rights organisations from across Europe. We defend rights and freedoms in the digital environment. You can find our members here.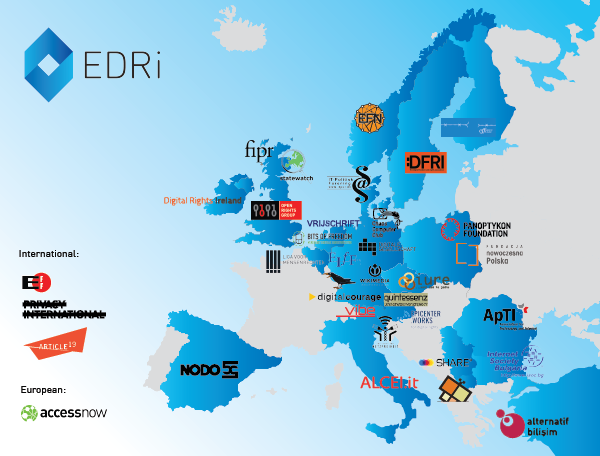 Information technology has a revolutionary impact on our society. It has boosted freedom of communication and democracy but has also led to new approaches to surveillance and is increasingly used to impose restrictions on fundamental rights. Whenever citizens' rights and freedoms in the online environment are endangered by the actions of political bodies or private organisations, we ensure that they are respected.
EDRi's key priorities for the next years are privacy, surveillance, net neutrality and copyright reform.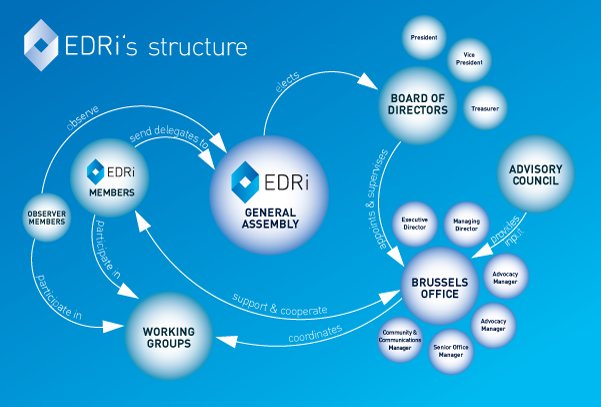 EDRi is an international non-profit association (AISBL) under Belgium law granted by decree Nr7/CDLF/14.853/S of 12 February 2003 and registered in Brussels (n° BE0866.466.752). EDRi is registered in the EU Register of Interest Representatives under the number 16311905144-06. See public profile on the EU Register. The statutes of European Digital Rights are available in English and French.
Founded in June 2002, the Brussels office re-opened in 2009 and has expanded from one to six employees over the past years. The Board is composed of three members.
You can find our corporate fundraising policy here.
Board
President: Andreas Krisch
Verein für Internet-Benutzer Österreichs (VIBE!AT) – Austria
Vice-President: Katarzyna Szymielewicz
Panoptykon – Poland
Treasurer: Ot Van Daalen
Amsterdam – Netherlands
You can find more details on our board members here, and you may reach them via e-mail at board [at] edri.org.
Brussels office
You can get in touch with the Brussels office via e-mail at brussels [at] edri.org
Advisory Council
Nnenna Nwakanma
Juan-Carlos De Martin
Maria Farrell
Gordon Lennox
Find more details on our Advisory Council here.
Membership
Statutory membership is restricted to not-for-profit, non-governmental organisations whose goals include the defence and promotion of civil rights in the field of information- and communication technology. Organisations that wish to join should contact European Digital Rights via board email or one of its members.
If you are a registered organisation, please download the form ODT – PDF and send it back to brussels [at] edri.org.
If you are an individual applying for observer status, please download the form ODT – PDF and send it back to brussels [at] edri.org.
---

EDRi is a member of Trans Atlantic Consumer Dialogue (TACD).