ALTwitter – profiling with metadata
When we are sharing links, events or ideas through social media, we leave behind a trace of metadata: when and how often, which days of the week, in which language, using which hashtag, linking to which users or websites, and so on. Those details might not say much when we look at each piece of information separately, but when combined, they can show some interesting things – and no-one can avoid being profiled on the basis of these metadata, which are publicly available to anyone who bothers looking for them.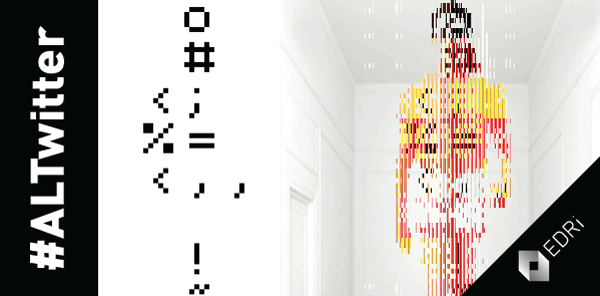 EDRi's Ford-Mozilla Open Web Fellow Sid Rao created a platform called ALTwitter, which combines the metadata collected from public Twitter accounts of the Members of the European Parliament (MEPs) and presents them graphically. Without going through all their tweets, one can learn a lot about their work areas, the devices they use, the types of websites they refer to, when they are the most active, and so on. What we can learn about the person only based on these metadata is indeed much more than we would first expect!
Why is this important? The aim of the Hakuna Metadata project is to show that the metadata that we generate by our daily activities online contains an immense amount of information. A big part of metadata is collected for marketing purposes, to target advertising to us according to our habits and preferences, to influence our decisions on what to buy. Our activity patterns and information on the devices we use can be used for making assumptions about, for example, how wealthy we are.
Most companies are collecting more information about us than they actually need for offering us their services. They can then sell this information to marketing companies, data brokers, political campaigns and others, who will be able to connect the metadata collected from different sources. Based on that, they will draw conclusions about us. This could affect our own behaviour, but also what services we are offered and at what price, which can also lead to discrimination.
What about those politicians who have been profiled with the help of Sid's ALTwitter metadata platform? Who is tweeting way too much? Who has strange tweeting habits? What are the hot topics? Are MEPs tweeting from their own devices? Check out their profiles here and find out how much detailed and sometimes surprising information can be drawn from publicly available metadata that we are giving out, often without the intention to do so.

This article is also available in German at https://netzpolitik.org/2017/dein-profil-aus-twitter-metadaten-altwitter/.
ALTwitter #hakunametadata: Twitter metadata profiles of the Members of European Parliament
http://www.privacypies.org/ALTwitter/
Hakuna Metadata – Let's have some fun with Sid's browsing history! (03.05.2017)
https://edri.org/hakuna-metadata-lets-have-some-fun-with-sids-browsing-history/
Hakuna Metadata – Exploring the browsing history (22.03.2017)
https://edri.org/hakuna-metadata-exploring-the-browsing-history/