Cross-border access to data for law enforcement: Document pool
The European Commission proposed a Regulation on cross-border access to and preservation of electronic data held by service providers and a Directive to require service providers to appoint a legal representative within the EU in April 2018.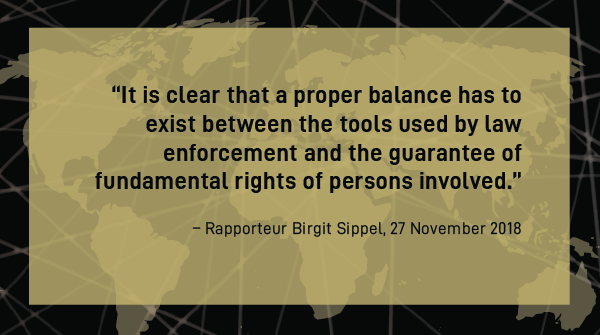 On 7 December 2018, the Council of the European Union reached a general approach on the text, that is to say a political agreement on a negotiating position to enter the negotiations with the European Parliament. The Civil Liberties, Justice and Home Affairs Committee of the Parliament decided to first make a thorough assessment in a series of working documents of the Commission's proposal before adopting its position. Rapporteur Birgit Sippel MEP released her draft report in November 2019. After a year of negotiations disrupted by the COVID-19 crisis, the final report was adopted by the Committee on 7 December. The trilogue negotiations between the Parliament and the Council begun in February 2021 and ended in December 2022 with a final compromise text.
The United States, adopted its own piece of legislation in a rush, the US Clarifying Lawful Use of Overseas Data (CLOUD) Act. The bill allows to access data stored outside of US territory while bypassing the legal safeguards of traditional international cooperation frameworks.
In parallel, the Council of Europe (CoE) has been also preparing a new protocol to the Convention on Cybercrime (also known as "the Budapest Convention") on cross-border access to data by law enforcement authorities. This Second Protocol was finalised in May 2021 and formerly adopted on 17 November 2021 by the Committee of Ministers of the Council of Europe. The text will be opened for signature in May 2022. On 25 November 2021, the European Commission published two proposals for Council decisions authorising Member States to sign and to ratify the Protocol, in the interest of the European Union. On 17 January 2023, the European Parliament gave its consent for the adoption of the Council decision authorising the ratification.
EDRi has been sending submissions to all institutions to ask for human rights to be respected. In this document pool, you will find the relevant information, documents and analyses on the e-evidence proposals. We've been updating this document pool as the process advanced.
Last update: 6 June 2023.
Table of Contents
European Union legislative process
EDRi's analysis and recommendations
Legislative and institutional documents
EDRi's blogposts and press releases
Key policymakers
Other
Council of Europe Second Additional Protocol to the Budapest Convention
EDRi's recommendations
Official draft provisions
EDRi's blogposts and press releases
---
European Union's legislative process
EDRi's analysis and recommendations:
Legislative and institutional documents:
European Commission
Council
European Parliament

Civil Liberties Committee (LIBE)

Trilogues
European Data Protection Supervisor
Others
More information in EUR LEX (EU Database on preparatory acts) and OEIL (European Parliament's Legislative Observatory)
EDRi's blogposts and press releases:
Key policymakers
European Parliament Lead Committee: Civil Liberties, Justice and Home Affairs (LIBE)
Key dates*:
Commission

Proposal release: 12/04/2018

LIBE

Deadline for tabling amendments: 27.11.2019
Vote on the Report: 7 December 2020

Trilogues

Start: February 2021
Next political meeting: October 2022

Final votes

European Parliament's Civil Liberties Committee (LIBE) vote: 31 January 2023
European Parliament's plenary vote: 13 June 2023
*subject to change
Other:
Council of Europe Second Additional Protocol to the Budapest Convention
EDRi's recommendations:
Official draft provisions
Final texts (explanatory report and executive protocol) available in this press release.
Visit the Council of Europe's website to follow the consultations rounds.
EDRi's blogposts and press releases