In the making: The largest internet filter Europe has ever seen
European policy makers are working on the largest internet filter we've ever seen.
That might sound a tad dramatic, but it's really not an overstatement. If the proposal is accepted, websites such as Soundcloud, eBay, Facebook and Flickr will be forced to filter everything you want to upload. An algorithm will be the boss over which of your uploads will be seen by the rest of the world and which won't.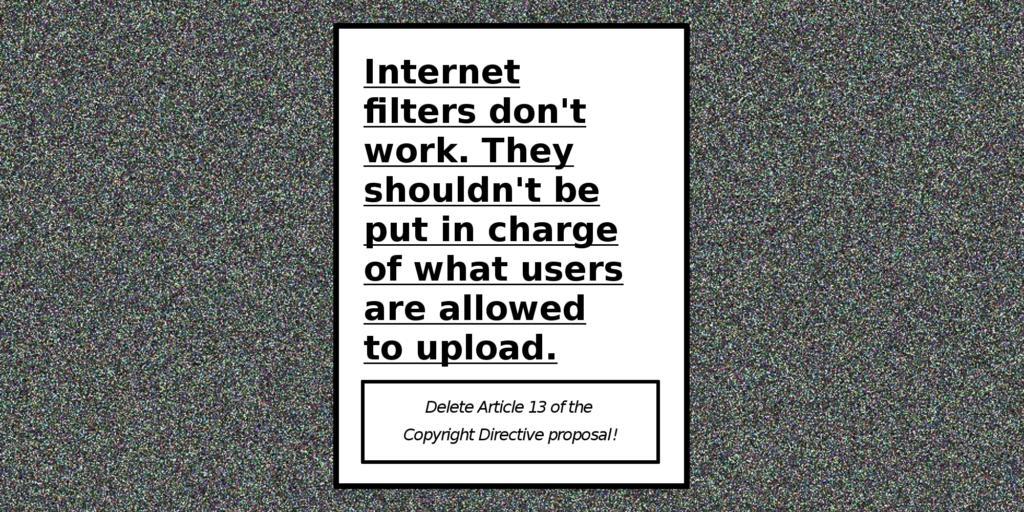 Why haven't I heard about this before?
This internet filter is tucked away in a proposal for new European copyright regulation. Internet filters can't and shouldn't be used to regulate copyright. They don't work. But there's a much bigger problem: once it's installed, the internet filter can -and will- be used for a myriad of other purposes. We bet you anything that policy makers are gleefully awaiting the internet filter in order to use it in their latest battle, be it fake news, terrorism or undesirable political opinions.
Main issues
There are a lot of reasons not to want an internet filter. These are the three most important ones:
It's an attack on your freedom of expression. You will have to get permission to speak.
Filters like these tend to make lots of mistakes and it will be up to you to fight them. (Spoiler alert: you can't.)
Platforms will be incentivised to avoid risk – at the cost of your freedom.
What can you do?
The following weeks are crucial. Tweet or e-mail your representatives that are part of the JURI committee. On 20-21 June they will be deciding on the upload filter. Use the hashtag #CensorshipMachine or #filterfail and let your representatives know you're against the internet filter (Article 13)! You can find the Members of the European Parliament (MEPs) relevant to you here:

We've written some tweets to inspire you, but feel free to compose your own!
.@MEP Stand up for our freedom of expression online. Please oppose the #censorshipmachine in the #copyright Directive proposal.
.@MEP Stand up for our privacy online. Please oppose the #censorshipmachine in the #copyright Directive proposal."
.@MEP Show that you care about culture and free speech: oppose the #censorshipmachine in the #copyright Directive proposal."
.@MEP Internet filters don't work. Please delete article 13 of the #copyright Directive proposal! #filterfail
We already tweeted at MEPs in their own language, check it out.
https://edri.org/lets-stop-the-censorship-machine/