Internet protocol community has a new tool to respect human rights
EDRi member Article 19 welcomes the Internet Research Task Force's new "Research into Human Rights Considerations" as a much needed tool for the internet protocol community to respect human rights.

This new document (RFC8280) marks the first milestone in a longer-term research effort to understand the impact of internet technologies on human rights. It has been reviewed by the Human Rights Protocol Considerations Research Group and by other external experts.
The research outlines the relationship between human rights, internet protocols and the internet architecture by analysing several cases. It reviews several protocols such as Domain Name System (DNS), The Hypertext Transfer Protocol (HTTP), Virtual Private Networks (VPN) among others for their positive and negative impacts on human rights.
The document offers a concrete set of guidelines for human rights considerations: questions and examples which protocol developers can use to ensure their protocols do not negatively impact human rights on the internet.
"Now the internet standards community has a clear set of guidelines to consider the impact of their work on human rights. This makes the internet a more rights respecting environment", says Niels ten Oever, Head of Digital at Article 19 and one of the authors of the document.
This document is a product of the Human Rights Protocol Considerations Research Group. The group is also working on documents focusing on the right to freedom of association and protocols. If you are interested in this work, join the research group by subscribing to its mailing list: https://www.irtf.org/mailman/listinfo/hrpc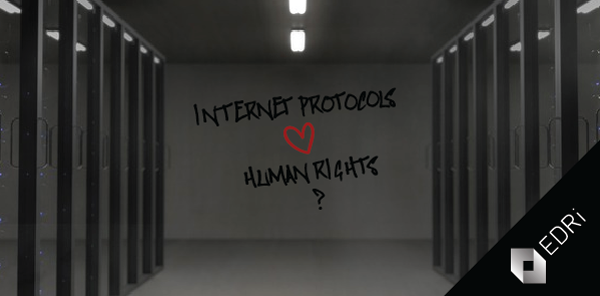 This article was originally published at https://www.article19.org/resources.php/resource/38939/en/internet-protocol-community-has-a-new-tool-to-respect-human-rights
Research into Human Rights Protocol Considerations
https://tools.ietf.org/html/rfc8280
Freedom of Association on the Internet
https://tools.ietf.org/html/draft-tenoever-hrpc-association-02
On the Politics of Standards
https://tools.ietf.org/html/draft-tenoever-hrpc-political-02
(Contribution by EDRi member Article 19)