Moving Parliament's copyright discussions into the public domain
With just eleven months to go before the 2019 European elections, European citizens' reactions to certain aspects of the Copyright Directive mean that there is more interest than ever in what decisions are being made by the European Parliament, as well as how these decisions are made.
This is great news for pro-Europeans and a great opportunity for the Parliament to demonstrate its democratic credentials… or great news for Eurosceptics if the Parliament fails to deliver. It is clear for all stakeholders involved that in order for the legitimacy of the Copyright file to be maintained, JURI's negotiation mandate needs to be rejected next week. 

On the 5th of July there will be a vote on whether to start secretive, undemocratic closed-door "trilogue" meetings with the EU Council, or to have a public discussion of the full Parliament in September.
An open debate and an opportunity for all MEPs to have their say on this clearly very important topic would greatly benefit the democratic process. For this reason, civil society has urged MEPs to vote for a public debate on the Directive and, therefore, against the negotiating mandate.
However, representatives of the copyright lobby, as well as certain Parliamentarians claim that citizens are misinformed. In order to clarify the issues, we have prepared a detailed line by line analysis of the adopted text in Article 13 in the Legal Affairs Committee (JURI).
A public discussion would help clarify some of the misunderstandings that have been circulating:
1. "This is only about Google and Facebook"
The definition describing the companies that are covered is very unclear. Indeed, Axel Voss MEP said on German TV that he was not even sure if Google and Facebook are covered and that the scope of the Directive will be subject to interpretation by the Court of Justice of the European Union (Zapp, NDR TV, 13 June 2018).
2. "This is only about videos and music"
Article 13 covers all kinds of content that can be uploaded – text, images, music, audiovisual content and even choreography.
3. "The JURI text does not include any mention of upload filters"
The text refers to:
–  "measures leading to the non-availability of copyright or related-right infringing works or other subject-matter" (Article 13.1) – which means upload filters
–  based on the relevant information provided by rightholders (Article 13.1a) – which means the lists of files to be filtered out
– such as implementing effective technologies (recital 38) – which means upload filters.
4. "The proposal says that the Charter of Fundamental Rights must be respected in the agreements between rightsholders and service providers"
The Charter of Fundamental Rights is binding on Member States and the European Commission. It is not binding on agreements between private companies.
5. "No personal data will be processed by the filters"
The proposal says that there must be a complaints mechanism in place. How can users complain about their work being filtered when it will be
impossible to match the complainant with the material that has been filtered?
6. "Memes are not covered"
The EU Copyright Exception for parody has been implemented differently across the EU and not implemented at all in some Member States. Therefore, unquestionably, memes are covered by the proposal and would be filtered by very imperfect algorithms, if the proposal is adopted in its current form.
7. "Agreements have to be "appropriate and proportionate""
Yes, this is true. But for whom do they need to be appropriate and proportionate? Logically, they need to be appropriate and proportionate for the parties to the agreement – and users are not parties to the agreements!
8. "There is an obligatory complaints mechanism"
Article 13 makes it clear that internet companies are free to impose their own terms and conditions. So, internet companies would have a choice – admit that content was being filtered on the basis of the law and implement a complicated and expensive complaints mechanism – or filter on the basis of their terms and conditions and avoid the expense of implementing a complaints mechanism. They won't implement a meaningful complaints mechanism!
9. "There is no general monitoring obligation"
A general obligation to monitor all uploads searching for millions of text, audio, audiovisual and image files is a general monitoring obligation.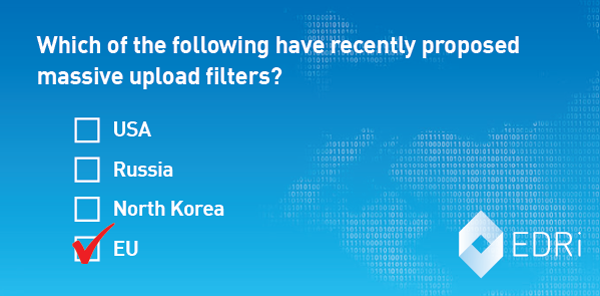 Read more:
Re-Deconstructing upload filters proposal in the copyright Directive (28.06.2018)
https://edri.org/redeconstructing-article13/
We can still win: Next steps for the Copyright Directive (20.06.2018)
https://edri.org/next-steps-copyright-directive-article-13/
Press Release: MEPs ignore expert advice and vote for mass internet censorship (20.06.2018)
https://edri.org/press-release-meps-ignore-expert-advice-and-vote-for-mass-internet-censorship/
EU Censorship Machine: Legislation as propaganda? (11.06.2018)
https://edri.org/eu-censorship-machine-legislation-as-propaganda/
Copyright Directive: Busting the myths (13.12.2017)
https://edri.org/censorship-machine-busting-myths/
(Contribution by Joe McNamee, EDRi Executive Director)