Right a wrong: ePrivacy now!
When the European Commission proposed to replace the outdated and improperly enforced 2002 ePrivacy Directive with a new ePrivacy Regulation in January 2017, it marked a cautiously hopeful moment for digital rights advocates across Europe. With the backdrop of the General Data Protection Regulation (GDPR), adopted in May 2018, Europe took a giant leap ahead for the protection of personal data. Yet by failing to adopt the only piece of legislation protecting the right to privacy and to the confidentiality of communications, the Council of the European Union seems to have prioritised private interests over the fundamental rights, securities and freedoms of citizens that would be protected by a strong ePrivacy Regulation.

This is not an abstract problem; commercial surveillance models – where businesses exploit user data as a key part of their business activity – pose a serious threat to our freedom to express ourselves without fear. This model relies on profiling, essentially putting people into the boxes in which the platforms believe they belong – which is a very slippery slope towards discrimination. And when children increasingly make up a large proportion of internet users, the risks become even more stark: their online actions could impact their access to opportunities in the future. Furthermore, these models are set up to profit from the mass sharing of content, and so platforms are perversely incentivised to promote sensationalist posts that could harm democracy (for example political disinformation).
The rise of highly personalised adverts ("microtargeting") means that online platforms increasingly control and limit the parameters of the world that you see online, based on their biased and potentially discriminatory assumptions about who you are. And as for that online quiz about depression that you took? Well, that might not be as private as you thought.
It is high time that the Council of the European Union takes note of the risks to citizens caused by the current black hole where ePrivacy legislation should be. Amongst the doom and gloom, there are reasons to be optimistic. If delivered in its strongest form, an improved ePrivacy Regulation helps to complement the GDPR; will ensure compliance with essential principles such as privacy by design and by default; will tackle the perversive model of online tracking and the disinformation it creates; and it will give power back to citizens over their private life and interests. We urge the Council to swiftly update and adopt a strong, citizen-centered ePrivacy Regulation.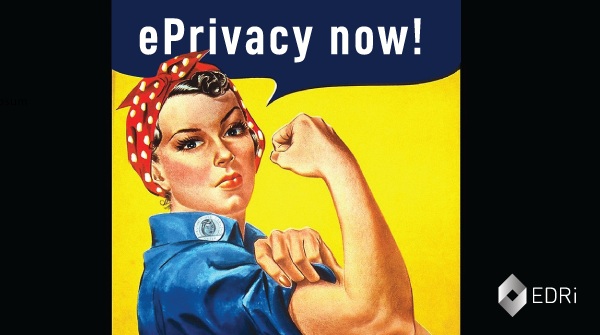 e-Privacy revision: Document pool
https://edri.org/eprivacy-directive-document-pool/
ePrivacy: Private data retention through the back door (22.05.2019)
https://edri.org/eprivacy-private-data-retention-through-the-back-door/
Captured states – e-Privacy Regulation victim of a "lobby onslaught" (23.05.2019)
https://edri.org/coe-eprivacy-regulation-victim-of-lobby-onslaught/
NGOs urge Austrian Council Presidency to finalise e-Privacy reform (07.11.2018)
https://edri.org/ngos-open-letter-austrian-council-presidency-eprivacy/
e-Privacy: What happened and what happens next (29.11.2017)
https://edri.org/e-privacy-what-happened-and-what-happens-next/
(Contribution by Ella Jakubowska, EDRi intern)