TTIP Resolution: document pool
The European Parliament is going to adopt a Resolution on TTIP. A resolution is a political statement which does not have binding effects. However, a strong resolution from the Parliament could be a step in the right direction.
The Committee on International Trade (INTA) was in charge of the dossier and was guided by Opinions from 13 other Committees before it submitted its report to Plenary (vote scheduled on 8 July).
From a digital rights perspective, we have identified eight key Committees. We're now campaigning for a respect of our red lines on TTIP to ensure the protection of our rights and freedoms. In order to allow you to keep track of the process, you can find our analysis below. We'll update this post as the procedure advances. Last update: 9 July 2015
TTIP RESOLUTION ADOPTED
What did the Parliament say about Digital Rights?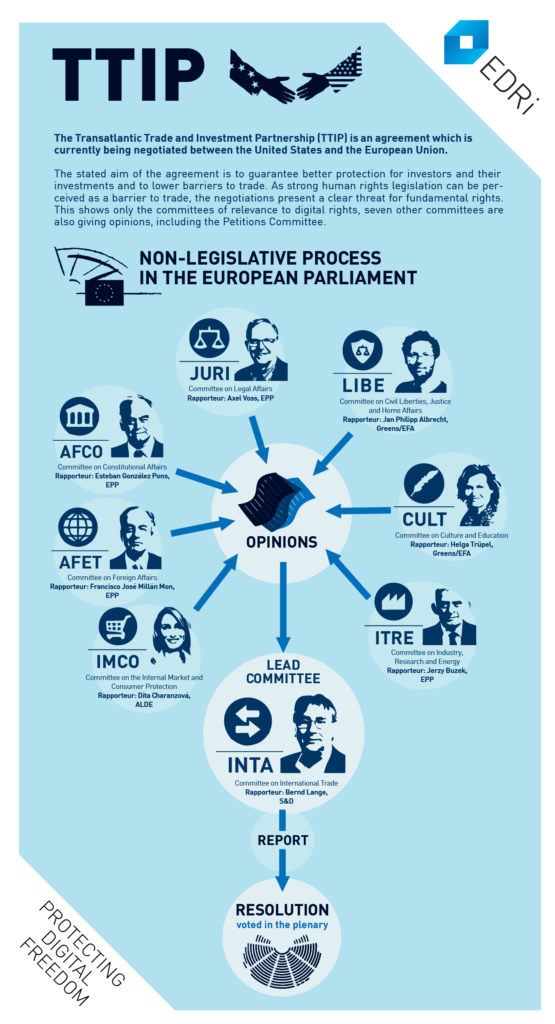 For more information on how the EU works, read our Activist guide to the Brussels Maze. For more information on TTIP and Digital rights, click here.