10,000 people demand a ban on biometric mass surveillance
Reclaim Your Face is a European movement to bring people's voices into the discussion around the use of biometric data to monitor the population. Since its launch only two weeks ago, over 10,000 people have signed their support by adding their name to the call for transparency, red lines, and respect for humans in European uses of biometrics.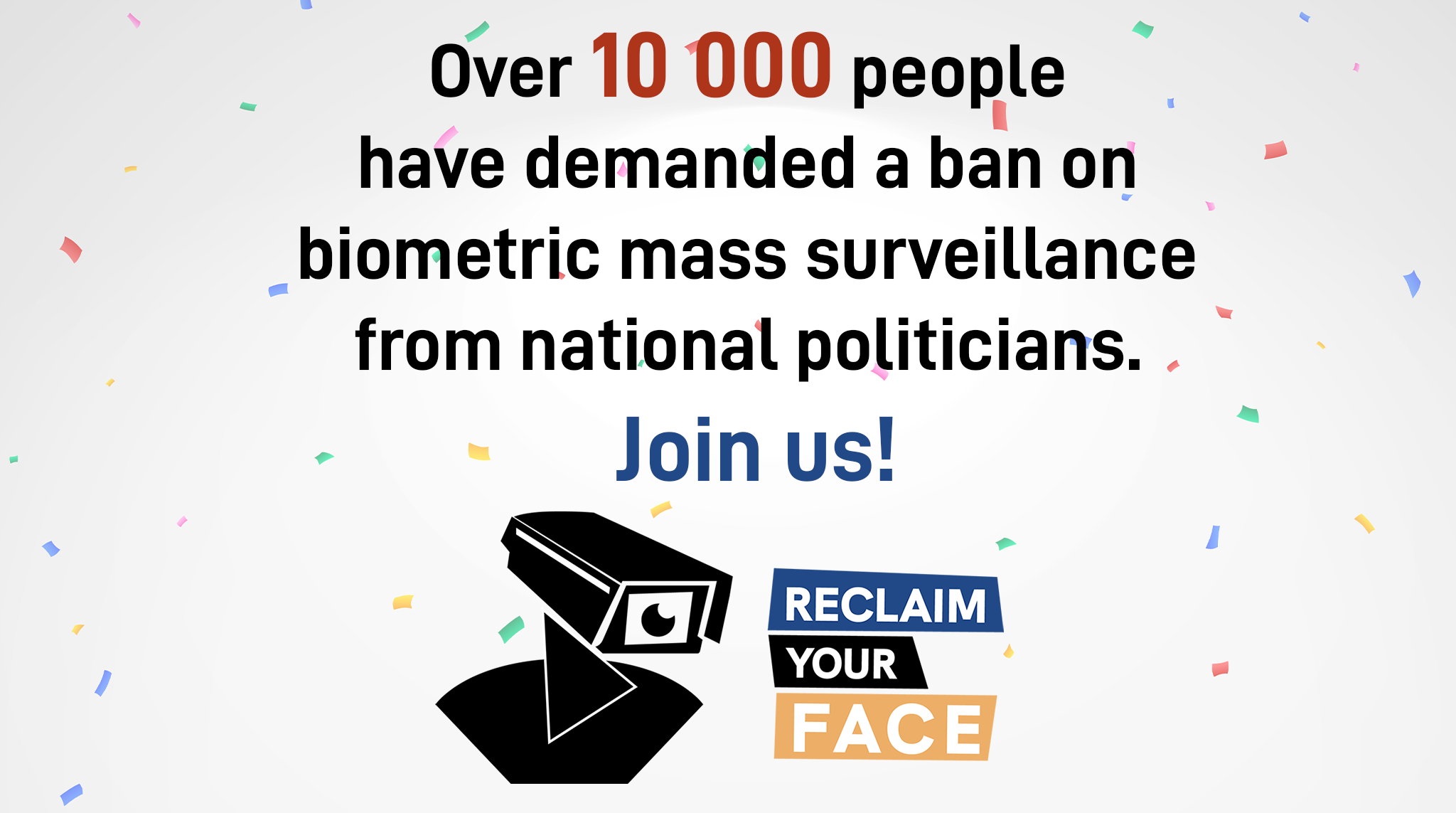 On 12 November 2020, 12 organisations from across the EDRi network launched the first ever pan-European civil society movement against biometric mass surveillance: Reclaim Your Face. With co-ordinated national campaigns and public support growing day by day in Italy, Serbia, Greece, Czechia, the Netherlands, France and Germany, the RYF coalition is becoming harder for politicians and authorities to ignore. From POLITICO to de Heise, from Wired Italia and even Nature, to a tweet from a former national data protection officer, the campaign has engaged people in a powerful debate about how we should all be able to enjoy and participate in public space and public life.
The initial response from Reclaim Your Face's thousands of supporters has celebrated this timely and urgent effort to hold power to account. In their comments, many supporters have decried exactly the sort of surveillance societies that our campaign is calling on European leaders to prevent. Mentions of George Orwell's 1984, Big Brother – and even occasionally Stalin – are common. Democracy, freedom and privacy have been frequent reasons given by supporters for what they want to protect – and what is being threatened by the unchecked rise in biometric mass surveillance in Europe.
Despite the high-profile launch, we face an uphill battle. Serbian authorities are still surveilling the population of Belgrade. Italian authorities are trying to reproduce the biometric surveillance systems that were recently declared illegal in the city of Como, in other cities. And the influential Margrethe Vestager (European Commissioner for a Europe Fit for the Digital Age) announced recently that she believes there is no need for additional biometric regulation in the EU. But our investigations and research have shown that current regulations are clearly not working, and the failure to enforce sufficient protections has enabled a lot of unlawful and intrusive uses of the tech. It has led to a game of regulatory "whack-a-mole", where civil society and data protection authorities are chasing the discriminatory and privacy-invasive uses that are popping up in Europe almost daily. This is unsustainable and dangerous – and it's one of the reasons why we are calling for a ban on biometric mass surveillance.
Right now, we need your support. Every voice gives us more evidence to tell European politicians and authorities that we are standing up for a free and open public space, and that we stand united against biometric mass surveillance. You can add your voice here, join the supporter mailing list to find out about future actions here, and follow news and developments for the campaign @ReclaimYourFace.
Please share and promote the actions that are happening in Czechia, Greece, Italy, the Netherlands and Serbia with friends, family and connections in those countries. When we stand together – as humans, as communities, as cities – we become an unstoppable force.
Explore EDRi's work on biometric mass surveillance
Civil society across Europe launches the "Reclaim Your Face" campaign, demanding that local and national authorities  listen to their communities about the serious risks of using facial recognition...

44 civil society organisations call for a ban on biometric mass surveillance in EDRi's new paper, "Ban Biometric Mass Surveillance: A set of fundamental rights demands for the...