Commission's waiting game: Gambling with freedom of information
In April 2017, EDRi wanted to shed light on the industry lobbying in Brussels surrounding the copyright reform. We therefore filed a freedom of information (FOI) request to access the correspondence the European Commission received from rightsholders at the time it was finalising its proposal for the new Copyright Directive.

On the very last day of the period for responding to our demand, we received a request for clarification of what we were asking for. The request for clarification of a very simple request can only be interpreted as a sign of the Commission not being able to understand a basic demand, or as an abusive effort to avoid respecting its legal obligation to respond to freedom of information requests.
We confirmed that our request to access "all correspondence" indeed covered "all correspondence", and the Commission kindly acknowledged receipt of our clarification. However, for no obvious reason, it decided that this started a new deadline for it to respond.
On 1 June 2017, the very last day of this new, entirely unexplained extension of the period for responding to our demand, we received a response from the Commission:
"An extended time limit is needed as the documents requested originate from third parties which have been consulted. Therefore, we have to extend the time limit with 15 working days in accordance with Article 7(3) of Regulation (EC) No 1049/2001 regarding public access to documents."
We understand and acknowledge that consulting third parties is time-consuming. However, the fact that the request concerned third parties was known by the Commission from the start.
We are impatiently awaiting the extended deadline on 23 June, anticipating the results of consulting the third parties, and perhaps, finally acquiring access to the correspondence in question – unless the Commission happens to have another card up its sleeve, probably unexpected clarifications that were demanded by the "individuals concerned" which, the Commission regrets, will require the deadline to be extended yet again.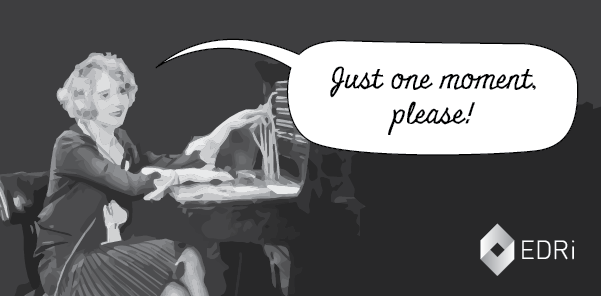 EU Commission on FOI request: Incompetence or ill-intent? (31.05.2017)
https://edri.org/eu-commission-on-foi-request-incompetence-or-ill-intent/
ENDitorial: Transparency and law-making on EU copyright – mutually exclusive? (05.04.2017)
https://edri.org/transparency-and-law-making-mutually-exclusive/
Artificial unintelligence – lobbyletter
https://edri.org/lobbyletter/