Copyright reform: Document pool
The current European copyright system is broken. We need to repair it as soon as possible, in a way that respects the rights and values of European citizens and creators – not only those of intermediaries such as publishers, record companies or collecting societies!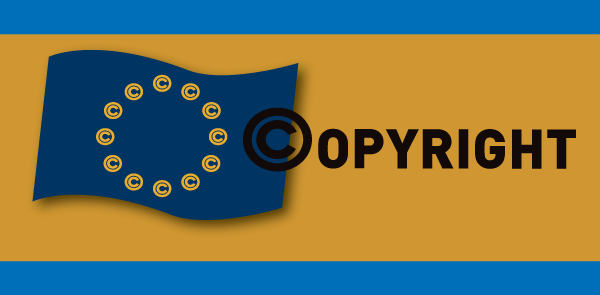 The European Commission has set in its agenda reforming copyright as one of the foundations to build the Digital Single Market. We welcome the attempt to do so because EU's copyright legislation is outdated. However, given the dangerous threats which are present in the proposal launched by the European Commission (see here), we will need to monitor the developments of the proposal very closely.
In this document pool we will be adding all the relevant documents on the EU copyright reform that will be published or leaked. This will allow you to follow the developments of this crucial file for EU citizens' rights to access to culture, and to their freedom of expression. It will also serve as a reference throughout the process.
EDRi's analysis and recommendations
Legislative documents
EDRi's blogposts and press releases
Other
Key policy-makers
Key dates
---
EDRi's analysis and recommendations
---
Legislative documents
---
EDRi's blogposts and press releases
Copyright Reform digest
---
Other
European Commission's report on the public consultation (not published)
Eurobarometer report Internet users' preferences for accessing content online and country factsheets
Synopsis reports in other languages and contributions to both consultations on the panorama exception and ancillary copyright.
A Brief Exegesis of the Proposed Copyright Directive paper prepared by Sophie Stalla-Bourdillon, Eleonora Rosati, Karmen Turk, Christina Angelopoulos, Aleksandra Kuczerawy, Miquel Peguera, Martin Husovec.
On Online Platforms and the Commission's New Proposal for a Directive on Copyright in the Digital Single Market (study by Dr Christina Angelopoulos, Centre for Intellectual Property and Information Law (CIPIL) University of Cambridge (January 2017)
Open Letter by 70+ Internet Luminaries Ring the Alarm on EU Copyright Filtering Proposal (11 June 2018)
Blog Post by  Paul Sieminski from Automattic, the company that created WordPress: 'We're Against Bots, Filtering, and the EU's New Copyright Directive' (12 June 2018)
Article by BBC News: 'Copyright law could put an end to net memes' (8 June 2018)
Article by Marius François in Le Figaro: 'Un projet de loi européen pourrait menacer les mèmes sur Internet' (in French – 8 June 2018)
Article by Glyn Moody in Arstechnica: 'Illegal memes? Weak Safe Harbor? Unpacking the proposed EU copyright overhaul' (12 June 2018)
Article by Mike Masnick in Techdirt: 'Ending The Memes: EU Copyright Directive Is No Laughing Matter' (12 June 2018)
Article by Pablo Romero in Publico: 'Alerta: Europa puede cargarse la Wikipedia y los memes con sus normas sobre 'copyright" (in Spanish – 12 June 2018)
Article by Elsa Trujillo on BFMtv: 'Pourquoi les mèmes sur Internet sont en danger' (in French  – 11 June 2018)
Article by Jochen G. Fuchs on t3n news: ' Vergesst die DSGVO: Das Netz verliert gerade seine Informationsfreiheit' (in German – 11 June 2018)
Article by Sky News: 'Memes 'will be banned' under new EU copyright law, warn campaigners' (8 June 2018)
Article by Mollie Cahillane in Daily Mail: 'Could this be the end of memes? EU's proposed rules on copyright could kill off user-generated content, critics warn' (8 June 2018)
Article by Futurezone Technology News: 'Neues Urheberrecht könnte Aus für Memes bedeuten' (in German – 8 June 2018)
Article by Emanuel Karlsten in Göteborgs-Posten: 'Karlsten: En av vår generations största politiska ödesfrågor' (in Swedish – 8 June 2018)
Article by Glyn Moody on BoingBoing: ' Of Dog's Breakfasts, Article 13, and Mythbusting' (7 June 2018)
Article by Jonathan Greig on TechRepublic: 'EU copyright reform proposal: 3 things businesses need to know' (8 June 2018)
Blog Post from Jan Gerlach of the Wikimedia Foundation on 'Sacrificing freedom of expression and collaboration online to enforce copyright in Europe?' (6 June 2018)
Blog Post from Wikimedia France on 'Réforme européenne du droit d'auteur : menaces sur les projets Wikimedia' (in French – 11 June 2018)
Blog Post by MEP Julia Reda (Germany, Greens/EFA, Shadow Rapporteur on the file) on How you can #SaveYourInternet from Article 13 and the "Link Tax" in the next 14 days (6 June 2018)
Heise news article on the copyright reform (in German)
Next Inpact news article on Article 13 (in French and partially behind a paywall)
Torrentfreak article 'Judgment Day Nears for EU's 'Piracy Filters' by Ernesto Van der Sar (4 June 2018)
Article by Thomas McMullan on Alphr: Article 13 could "destroy the internet as we know it": What is it, why is it controversial and what will it mean for memes?
Communia blog: Article 13 in 3 flowcharts
Mozilla's ChangeCopyright list of resources
European Digital Rights EDRi's copyright reform document pool
Vox Scientia's Censorship Machine 1-min, 10-min, 1-hour briefing pages
Github's blog post on the impact on code sharing
EU Copyright Reform Information Page of the University RCUK Centre for Copyright and New Business Models in the Creative Economy (CREATe)
Open Letter by Academics from 25 leading Intellectual Property research centres in Europe (24 May 2018)
Study by Dr. Christina Angelopoulos On Online Platforms and the Commission's New Proposal for a Directive on Copyright in the Digital Single Market (January 2017)
Position Statement of the Max Planck Institute for Innovation and Competition on the Proposed Modernisation of European Copyright Rules. Part G – Use of Protected Content on Online Platforms
---
Key policy-makers

European Parliament Committees
Lead Committee: Legal Affairs (JURI)

Rapporteur: Axel Voss
Shadow Rapporteurs:

Lidia Joanna Geringer de Oedenberg

Angel Dzhambazki
Jean-Marie Cavada
Jiří Maštálka
Julia Reda
Isabella Adinolfi
Marie-Christine Boutonnet

Other Committees issuing Opinions:

INTA

– the Committee decided not to give an Opinion

ITRE, Rapporteur:

Zdzisław Krasnodębski

IMCO, Rapporteur:

Catherine Stihler

CULT, Rapporteur:

Marc Joulaud

LIBE, Rapporteur:

Michał Boni
---
Key dates*
JURI

Lead Committee vote: 10.10.2017 Update!: Vote schedule for 20-21 June 2018

Update! Adoption of the result of the copyright trilogues: 26 February 2019

Update!

PLENARY FINAL VOTE (TBC): Scheduled for 15-18 April 2019

Update!

Vote in the Council of the result of the copyright trilogues: 20 February 2019