2017: From EDRi to the world
2017 was a busy year for digital rights defenders. To advance our mission to defend and promote your rights to privacy, data protection, and freedom of information, expression and opinion, we worked hard to engage with European level decision-making, but also did our best to get out of the Brussels "EU bubble" and enhance digital rights across Europe and beyond. How?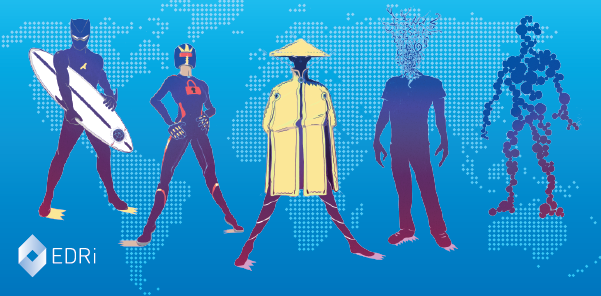 1. Increasing our international outreach
In 2017, EDRi spoke in events in 15 countries. We gave numerous expert presentations in the European Parliament, the European Commission, the Council of Europe, national Permanent Representations to the European Union, the European Economic and Social Committee, and other key institutions. We also spoke about our work in many universities to explain the importance of digital rights. In addition, we wrote guest articles in various publications and were quoted in international news outlets.
Furthermore, we participated in key international events, including the Computers, Privacy and Data Protection International Conference (CPDP), the Internet Freedom Festival (IFF), Re:publica, RightsCon, the OSCE-Council of Europe's Internet Freedom Conference, Council of Europe's expert meetings on intermediaries, Copycamp, the United Nations Internet Governance Forum, and the Chaos Communication Congress.
We also co-organised several events with international reach , such as the Privacy Camp, the Civil Society Trade Lab, and the School of Rock(ing) Copyright in Slovenia, Hungary and Portugal.
In addition to the events, EDRi set up an Advisory Council to add expertise from international experts outside the EDRi network.
2. Maintaining and building new international alliances
The defence and promotion of digital rights cannot be achieved by only one single organisation. That is why in 2017 we led and participated in several formal and informal coalitions, including on data protection, e-Privacy, encryption, cross-border access to data, net neutrality (see here, here and here), telecoms, net competition, copyright reform (see here, here and here), free and open source software, and digital trade.
Moreover, we remained an active and proud member of the Trans Atlantic Consumer Dialogue (TACD). In 2017, EDRi also became a member of the Non Commercial Users Constituency (NCUC).
3. Strengthening the EDRi network globally
In 2017, we focused on invigorating our network. Without our 35 members and many other observer organisations and individuals, we could not have the reach and impact that EDRi has worldwide. After launching a Community network working group in 2016 and seeking internal and external input, we hired our amazing Community Manager, Guillermo Peris.
We organised four informal EDRi meet-ups on top of our annual General Assembly: one at Freedom Not Fear (Brussels); one in cooperation with Epicenter.works (Vienna); one at Re:publica (Berlin) and one at the United Nations Internet Governance Forum (Geneva). The purpose of these informal gatherings was to better connect, cooperate and share knowledge among the membership.
4. Thanks for supporting our work for digital rights
We want to thank all those supporting European Digital Rights (EDRi). May 2018 bring us many victories for the protection and defence of our privacy, personal data & freedom of opinion and expression online!
We are committed to defending digital rights in the best possible way. Do you have any suggestions to further improve in 2018? Please, contact us at brussels [at] edri.org.

From EDRi to the world in 2016 (25.01.2017)
https://edri.org/from-edri-to-the-world-2016/
(Contribution by Maryant Fernández Pérez, EDRi)